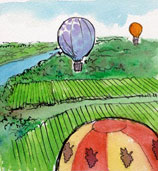 The Garden State's wine-producing history spans well over 200 years. New Jersey wines have been winning awards since 1767, when London's Royal Society of the Arts recognized two New Jersey vintners for their success in producing the first bottles of quality wine derived from colonial agriculture. Today, there are nearly three dozen wineries in the state, with the Renault Winery, dating back to 1864, being one of the oldest in America.

As an ocean state, New Jersey's climate can be described as maritime. The winds from the Atlantic moderate the temperatures. There are both hillside vineyards - with great exposures to the sun - as well vineyards in the low lands. The soils range from shale and slate to sandy loams and gravel. New Jersey truly is the Garden State.

Taking Focus on Appellation
By
Clark Smith
December 9, 2013
Appellation America has entered its second decade on the web. Much has changed since the start, but the core focus remains characterizing the unique flavor profiles of North America's appellations and the natural influences and human cultural forces which influence them.   [>] continue

Whitehall Lane Winery, A 20 Year Story of Vineyards
By
Roger King
July 15, 2013

Embracing Virginia's Terroir
By
Richard Leahy
June 2, 2013

Shake Ridge Ranch - Gem of the Sierra
By
Roger King
May 16, 2013

Tannat, Vibrant Across the America's
By
Barbara Trigg
May 6, 2013

The Journey: California AVA's Deliver on Eastern Needs
By
Allison Siena
January 28, 2013

Welcome Middleburg Virginia AVA
By
Roger King
January 4, 2013

Humboldt County: Is Too Much Terroir Possible?
By
Clark Smith
October 14, 2012