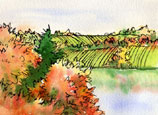 Formed by Delaware River tributaries, the slopes of several valleys contain the best vineyard sites in New Jersey's Warren Hills viticultural area. The narrow valleys run southwest to northeast, creating numerous southeast-facing slopes which are unique microclimates within Warren Hills. They have warmer than average temperatures and also receive much more direct sunlight and air drainage. These factors, combined with appropriate soil associations, result in prime growing conditions for late-ripening varieties such as Vidal, Seyval Blanc and Cabernet Sauvignon. The appellation, located entirely inside Warren County, New Jersey, covers about 226 square miles, with just over 100 acres currenty under vine.

WAWGG Banquet Explores Washington State Terrior
By
Roger King
February 2, 2014
The multiple appellations of Washington will be tasted in a unique banquet dinner at this years Washington Association of Wine Grape Growers Annual Meeting and Trade Show. Nuances of that regional diversity have been paired with the meal being prepared by Chef Dan Carr.  [>] continue

Taking Focus on Appellation
By
Clark Smith
December 9, 2013

Whitehall Lane Winery, A 20 Year Story of Vineyards
By
Roger King
July 15, 2013

Embracing Virginia's Terroir
By
Richard Leahy
June 2, 2013

Shake Ridge Ranch - Gem of the Sierra
By
Roger King
May 16, 2013

Tannat, Vibrant Across the America's
By
Barbara Trigg
May 6, 2013

Welcome Middleburg Virginia AVA
By
Roger King
January 4, 2013

Humboldt County: Is Too Much Terroir Possible?
By
Clark Smith
October 14, 2012