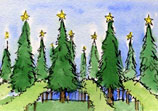 Michigan is the fourth largest grape-growing state in America, with over 13,500 acres of vineyards. Much of Michigan's acreage is planted to varieties like Concord and Niagara, destined for juice production. Wine grapes represent 11% of total vineyard area, but this percentage is growing fast. Close to 50 wineries operate, producing 200,000 cases of wine annually. Just 3% of Michigan's wine production is from labrusca varieties. The majority is from viniferas like Chardonnay, Riesling and Pinot Noir, with the rest coming from French hybrids such as Vidal, Vignoles and Chambourcin. Wine growing is split almost equally between two areas, each with 2 appellations: southwestern Michigan (Fennville and Lake Michigan Shore AVAs) and northwest Michigan (Leelanau and Old Mission Peninsulas AVAs). Each of these northern growing areas depends on the moderating 'Lake Effect' from Lake Michigan and most vineyards are within 25 miles of its shore. The Lake's buffering effect on climate helps protect vines from damaging frosts in both spring and fall. It also prolongs the frost-free period up to a month longer than more inland locations of the state.

WAWGG Banquet Explores Washington State Terrior
By
Roger King
February 2, 2014
The multiple appellations of Washington will be tasted in a unique banquet dinner at this years Washington Association of Wine Grape Growers Annual Meeting and Trade Show. Nuances of that regional diversity have been paired with the meal being prepared by Chef Dan Carr.  [>] continue
Cherry Creek Cellars Sees
Green in Its Red Wines
By
Eleanor & Ray Heald
April 15, 2008

The Inside Scoop On Michigan Wineries
By
Eleanor & Ray Heald
November 21, 2007

Astute marketing moves Michigan's wines ahead
By
Eleanor & Ray Heald
September 18, 2006

Michigan's Dr. Grape Speaks Out: An interview with Stan Howell
By
Eleanor & Ray Heald
August 14, 2006

Michigan winemakers celebrate their achievements as state lawmakers determine their fate.
By
Adam Dial
August 8, 2005
[>] see all Michigan features (5)

Taking Focus on Appellation
By
Clark Smith
December 9, 2013

Whitehall Lane Winery, A 20 Year Story of Vineyards
By
Roger King
July 15, 2013

Embracing Virginia's Terroir
By
Richard Leahy
June 2, 2013