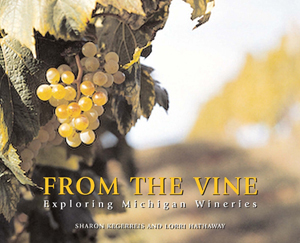 The Inside Scoop On Michigan Wineries
A new book, "From the Vine: Exploring Michigan Wineries" provides a showcase to the state's 50 wineries. Michigan correspondents Eleanor & Ray Heald interview the authors to find out what they learned about Michigan wineries as they researched the book.
by Eleanor & Ray Heald
November 21, 2007
---
Eleanor & Ray Heald (ERH):
Since neither of you are professed wine students or connoisseurs, what prompted you to found Michigan Vine in 2003?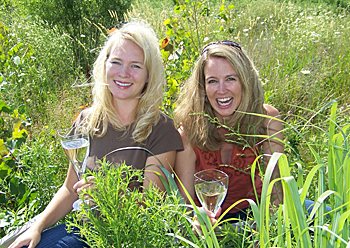 Sharon Kegerreis (SK):
We are wine enthusiasts with a passion for Michigan. Michigan Vine was launched to provide an online resource devoted to Michigan wine country - from both a traveler's and wine enthusiast's perspective. Our goal continues to be to establish ourselves as passionate crusaders for promoting Michigan wine country.
ERH:
Explain Michigan Vine and how it promotes Michigan wine.
SK:
Michigan Vine promotes Michigan wine country through the writing and publishing of
From the Vine: Exploring Michigan Wineries
. We also offer monthly news via updates to our web site and our periodic e-newsletters. We share good news from the wineries, travel experiences and, of course, new wine releases and events.
ERH:
What experiences involved in founding and administrating Michigan Vine prompted you to write your book?
SK:
Michigan Vine was founded on the idea that we could promote Michigan wine country through marketing, using writing that speaks to those who enjoy traveling and who appreciate the wine country experience. Writing a book was always part of the plan. We share extensive marketing and writing experience, backgrounds of being raised in northern Michigan tourism communities, the experiences of traveling beyond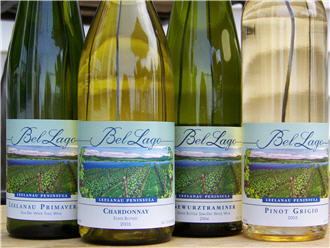 Michigan and abroad and a keen awareness that Michigan's Great Lakes and, specifically, its wine country, are great reasons to travel closer to home. We knew a book touting Michigan wine country
for the experiences
was much needed.
ERH:
How long did it take you to write the book and get it published?
SK:
Six months of intense writing, interviewing and photographing occurred after we approached the Ann Arbor Media Group in May 2006. The publisher was immediately interested in a book about Michigan wineries. We provided a handful of rough stories to the publisher that resulted in their final acceptance of our book concept and a contract. A late fall 2006 deadline was set with the strategy to publish the book by fall 2007.
ERH:
What is the most exciting discovery you made during this period?
Lorri Hathaway (LH):
It was most exciting to learn the stories of the winemakers and their journeys to how they began crafting wine. Some were raised to handcraft wine using Old World techniques handed down through generations of ancestors; many are farmers who wanted to diversify their products and others chucked the city life to jump into the hardworking lifestyle of winemaking. Regardless of their backgrounds, they all have a strong passion for their craft, and it's exciting to see people (who put) that much "heart" in what they do.
ERH:
What significant differences and/or similarities among Michigan's wine regions did you discover?
LH:
There is certainly a similar feel within the tasting rooms of all of Michigan's wine regions - a laid-back, comfortable environment to sample wines regardless of your wine experience, and an overall theme of "drink what you like."
We discovered differences among the wines, as we tasted and compared wines from region to region, due to the different growing conditions within the state.
ERH:
Although we believe this is the best book written on Michigan wines to date, we disagree with the following statement made by you: "Noteworthy, Michigan is located on the same latitude as the world-renowned wine regions of Europe. Our cooler climate is consistent with that in Bordeaux, France and the Rhine region of Germany." There are so many other factors affecting climate, why did you use this reference which has been deemed false for a long time?
LH:
We felt our readers would be interested in knowing that Michigan shared the same latitude as these world-renowned regions. As you know, climates differ dramatically from region to region, even within our own state, yet Michigan shares comparable temperatures with the regions mentioned, more so than with warmer climates such as in California, South Africa and Chile.
ERH:
You write that "it is important to note that we are not wine experts…" We applaud that you smartly consulted Michigan vintners to introduce each division of the book, based on Michigan's Wine Trails. In terms of their contribution to the Michigan wine industry, please tell us why you chose each of the following: Doug Welsch, Fenn Valley Vineyards; Charlie Edson, Bel Lago Winery; Mark Johnson, Chateau Chantal;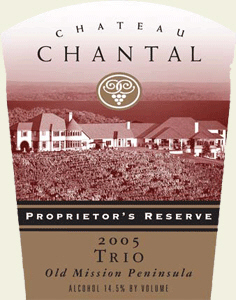 Kip Barber, Lone Oak Vineyard Estate; and Ralph Stabile, Mackinaw Trail Winery
.
SK:
There are several factors that impacted why these winemakers were contacted to provide introduction to the trail sections. Overall, we feel each winemaker selected was willing to offer a perspective and (to) share his experience with readers.
LH:
We're sure all of Michigan's winemakers are highly qualified to discuss their wine trails and have contributed to the Michigan wine industry in some way or another. As far as the contribution each of the winemakers selected has had on the industry:
Doug Welsch
has been growing grapes and producing wines for over 30 years on a carefully-selected piece of land, which eventually became part of Michigan's first AVA,
Fennville
, in 1981.
Charlie [Edson] continues to test new varieties of grapes to determine what can successfully grow on
Leelanau Peninsula
and has a current test site hosting over 80 different varieties. Mark [Johnson] has been producing wines on
Old Mission Peninsula
for almost 25 years and is one of the peninsula's first winemakers. Kip [Barber] kick-started the Pioneer Wine Trail in Southeast Michigan and Ralph [Stabile] established th