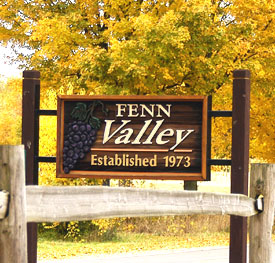 Fenn Valley Vineyards
Maximizes the Lake Effect
Our vineyard topography locates us at higher elevation than the surrounding land. Because it's slightly sloped, denser cold air drains off on frost-prone nights. Natural air drainage of the ridge extends the growing season, making it possible to fully ripen grapes in our "lake affected" cool climate.
~ Doug Welsch, Fenn Valley Vineyards winemaker
by Eleanor & Ray Heald
February 27, 2007
---
Eleanor & Ray Heald (ERH):
In addition to lake effect, what are other advantages of the Fenn Valley estate site?
Doug Welsch (DW):
Our vineyard topography locates us at higher elevation than the surrounding land. Because it's slightly sloped, denser cold air drains off on frost-prone nights. Natural air drainage of the ridge extends the growing season, making it possible to fully ripen grapes in our "lake affected" cool climate.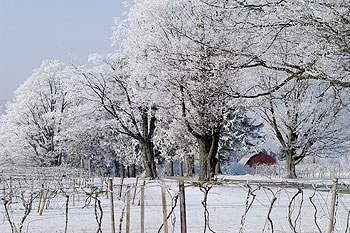 Additionally, although soils are highly variable, they have low fertility. Southwest Michigan's soils are fertile and, in general, have poor drainage. Exceedingly fertile pockets of the Fenn Valley estate do not ripen varieties well and bunch rot is a disease pressure.
ERH:
Back in the 1970s, what were the first varieties planted on the estate?
DW:
The first grape vines were planted in 1974 and there have been additional plantings almost every year since. Initial research led us in the direction of resistant varieties such as Seyval, Vidal, Vignoles, Foch and Chancellor.
ERH:
Which of these varieties did you retain and why?
DW:
Today, varieties planted in 1974 have position in our overall production. However in 1976, we began to plant the traditional
Vitis vinifera
varieties, beginning with
Riesling
,
Gewurztraminer
and
Chardonnay
. We learned that these cold-tender varieties, which were popular in the consumer marketplace, could be successfully grown on our estate.
ERH:
After that, which new varieties did you plant and in what year?
DW:
Among
vitis vinifera
varieties, in 1988 we added
Pinot Noir
,
Pinot Gris
in 1991, and
Cabernet Franc
in 1995. We have been delighted with the results and the improvement of each subsequent vintage.
In 1991, Fenn Valley became the first official planting for commercial production of
Chardonel
, the Seyval x Chardonnay cross developed at Cornell University in New York state. Because we believed it to be better than Gewurztraminer for our vineyards, we first planted
Traminette
in 1997 and we continue to plant more.
ERH:
When you first began making Pinot Gris, you opted for what may be called an Alsatian style, even using oak cooperage for aging. Now, you label the wine Pinot Grigio. Why did you change the style?
DW:
Pinot Gris in this climate is intensely fruity but with bitter skin. We've adopted whole berry pressing emphasizing light and delicate fruit characters. That doesn't lend itself to an Alsatian style. I was not chasing the market; the best Pinot Gris we can produce happens to be the popular Italian style.
ERH:
Which do you consider your top wines with a Fennville AVA?
DW:
Our 2005
Vignoles
is estate bottled but it carries a
Lake Michigan Shore
appellation as do most of Fenn Valley's wines. This is purely a marketing decision. Few people recognize Fennville.
Even as a sub-appellation, Fennville should not be part of the Lake Michigan Shore AVA. Our wines are quite different from Lake Michigan Shore, particularly further to the south. South of the Black River is a blueberry growing area, low ground, unsuitable for grape growing. The Lake Michigan escarpment begins south of I-94. From there to the Indiana border is true Lake Michigan Shore AVA because the climate is homogeneous.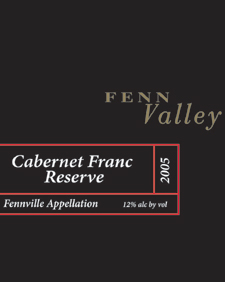 To be honest about it, the Fennville AVA came about because we wanted to vintage date our wines and didn't want to use a simple Michigan appellation. At the time (1981), there was disagreement among growers in southwest Michigan and we needed to move ahead.
ERH:
What are your "signature" wines?
DW:
Among white
vinifera
, it's Riesling because we make both a dry and semi-dry style. For red
vinifera
, it's Cabernet Franc. In most years, I source Cabernet Franc from growers in the Lake Michigan Shore AVA and blend it with estate-grown Cabernet Franc. However, in July 2007, we will release a 2005 Fenn Valley Cabernet Franc with a Fennville appellation on the label.
In a second tier, our signatures are Pinot Grigio and Pinot Noir.
Among white resistant varieties, it's Vignoles which develops a good botrytis infection and makes a delicious Late Harvest wine. For red, it's
Chambourcin
.
ERH:
What is the potential for Pinot Noir from the Fenn Valley Estate? What clones did you plant?
DW:
Michigan's Pinot Noirs will be sought out by lovers of red Burgundies. From California, Carneros, Russian River Valley or Sonoma Coast Pinot Noirs are a totally different style. We don't make a West Coast style and, unfortunately, some American consumers judge ours as unacceptably different.
The Pinot Noir experience for most consumers is through the West Coast. Michigan Pinot Noir, and I include Fenn Valley's in this, is fruity but not inky black and its hard for those who like the California style to buy into it. Our success with Pinot Noir is based on our ability to market our style. I believe that we'll be successful at this and have plans to plant more Pinot Noir next year.
ERH:
From Michigan AVAs, Cabernet Franc has been receiving accolades. What is your view of its potential at Fenn Valley?
DW:
Cabernet Franc is our premium classic style dry red because it has good tannin structure, good color and a unique, vibrant black cherry character. Grown further south in the Lake Michigan Shore AVA where it's warmer, Cabernet Franc is not as vibrant and is more like Cabernet Sauvignon. I also have plans to plant more Cabernet Franc.
ERH:
After all the years of evolution at Fenn Valley,