---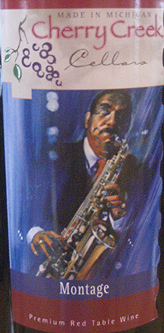 Cherry Creek Cellars
2005 Montage
(Michigan)
Cherry Creek Cellars owner/winemaker John Burtka has a passion for red wines. He believes that it is possible to get ripe, rich Cabernet Sauvignon flavors with grapes grown in the more southern reaches of Michigan when the vineyard regime includes extended hang time.

Burtka also believes that judicious blending of a winter hardy, resistant red variety (formerly called French hybrid) like Chancellor with Cabernet Sauvignon can make a delicious wine without traces of hybrid tastes. He's proven this with the 2005 Montage.

If you're unfamiliar with Chancellor, check out APPELLATION AMERICA's grape index to learn that the variety is "a leader with an unassuming voice," and that its "voice has found a new home in the land of the free-grape, known as the US of A."

Montage is lighter than Cherry Creek Cellars 100 percent Cabernet Sauvignon, proprietary-named Enigma, and suits occasions when lighter reds are the better food match. Think grilled pork tenderloin, roast chicken, vegetarian pizza or even grilled wild-caught salmon for this featured wine at the 2007 National Governors Convention.
Reviewed April 17, 2008 by Eleanor & Ray Heald.
Other reviewed wines from Cherry Creek Cellars
---
Winery: Cherry Creek Cellars
Vintage: 2005
Wine: Montage
Appellation: Michigan
Grapes: Cabernet Sauvignon, Chancellor
Price: 750ml $19.00



Eleanor & Ray Heald

The Healds have been writing about wine since 1978 and have focused on appellation significance in many of their world beat writings. They value recognizing site personality (terroir) within an appellation's wines. They praise balance and elegance in wines styled to pair well with food and eschew over-extraction, high alcohol and heavy-handed oak. "Delicious" is their favorite descriptor for a great, well-made wine.