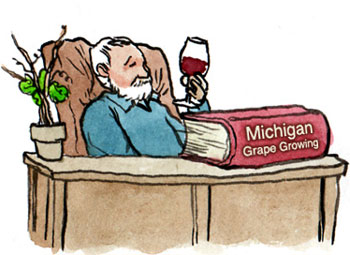 Michigan's Dr. Grape Speaks Out: An interview with Stan Howell
"On an annual basis, the quality of Michigan's red wines improves perceptibly...if you haven't tasted any red wines from Michigan in the last five years, you're totally ignorant about what's happening in this area."

~ Dr. Stan Howell, Michigan State University
by Eleanor & Ray Heald
August 14, 2006
---
<!>
Ray & Eleanor Heald (REH):
What brought you to Michigan and what influenced your interest in viticulture and enology?
Stan Howell (SH):
Quite honestly, I came to Michigan State University (MSU), because they had a job for me. With a wife and young family, I was looking to become gainfully employed after a decade of being in various aspects of higher learning institutions. I knew that MSU had a fantastic reputation as an agricultural-based university and that their horticultural department was held in high esteem across the U.S.
Back in 1969, grapes were only a small portion of my responsibility. I had a 50/50 research and extension outreach responsibility to cover three of the top five fruit crops produced in Michigan -- grapes, blueberries and strawberries.
I took an active attitude about extension and outreach, believing that until we had some answers to some important questions about those three fruit crops, I was not much more than a show horse that could be brought to meetings. It was cynical, in my opinion, to reach out with an empty hand and nothing to share. To be useful, it was critical that I develop a program of practical and applied research.
My goal was to learn whether I could be effective and gain respect in an institution that was noted for its national and international reputation. I wanted to know if I could compete with people who I knew were the best and brightest in my world of horticulture.
REH:
In the early years, your work with grapes was focused on Concord varieties. How did wine grapes come into the picture?
SH:
The first big activities were associated primarily with National Grape Cooperative and Welch's Foods. That was crucial and it had a huge impact on the direction that my program took because they provided me with some operating money and staff to help in the field.
Their support prompted my interest in learning how grapevines do what they do. Grapes are not simply an economic commodity but involve science and ecology. Across the continents, their evolution from the wild is amazing. With this realization, I've avoided the mistake of saying that I want the grapevine to do this because it would be convenient for me, even if the grapevine's job description doesn't call for it to do that. I've saved a lot of time by not trying to drive square pegs into round holes.
Wine grapes came into the picture at a chance meeting [before Michigan's AVAs were on the drawing board] with Angelo Spinazzi [then of Bronte Winery & Champagne Company.]
He asked me, "Why is it that at MSU, a land grant institution, wineries can't get some help for wine grapes?" I said that I didn't know but would look into it. That's when MSU's horticulture department began to do variety assessments.
REH:
What are the best grapes for Michigan?
SH:
I am not a purist. I believe that Michigan's future is mixed viticulture. I don't believe that it's 100% hybrid or 100% Vitis vinifera. On that point, the year 1994 made me a believer. In the third week of January that year in southwest Michigan, there were two freeze episodes that were colder than -20°F. At the southwest Michigan research center, nearly every vinifera vine was killed to the snow line. If southwest Michigan had been a 100% vinifera industry, there would have been operations going out of business and there would have been growers who said, "I'm done. I won't have any part of this."
Everywhere in the world that I've traveled and done research, there are wines of two types: those on which the region makes its reputation and wines which pay the bills. These do not need to be the same wines.
It's crucial that Michigan grow vinifera if the state's industry is to be taken seriously as a fine wine producing area -- for state, region and appellation. But there must be cash flow wines that fill tanks for those episodes that may cause economic loss.
That's a non-purist point of view but it's a very practical one for Michigan's wine industry. A winemaker from
New Mexico
once referred to
Vidal Blanc
as "chateau cash flow." That's the way Michigan needs to view resistant varieties.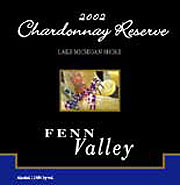 REH:
Your early work with Michigan vineyards preceded the establishment of Michigan's AVAs. Fennville was the first in 1981. Back then, what did you see as the major advantages of this AVA and how has it delivered that potential today?
SH:
I talked with the Welsch family, owners of
Fenn Valley Vineyards
in the Fennville AVA. Their view was that they wanted to separate their location and winery from the Michigan wine industry, which was negative at that time.
In the late 1970s and early 1980s, I knew that the Michigan wine industry had turned a huge corner when the wine writers in the Detroit metro area began to say nice things about Michigan wines instead of just laughing up their sleeve about it.
Today though, Fennville stands undeveloped as an AVA because Lake Michigan Shore has more marketing potential, especially from the standpoint of tourism.
REH:
Marketing potential aside, what are the best grapes for the Fennville AVA? And what characteristics do these grapes illustrate as wines from the AVA?
SH:
In the Fennville AVA, there should be both resistant varieties and vinifera. Riesling, Chardonnay and
Pinot Gris
are the best white vinifera and Cabernet Franc, the best red. Because Fennville is cooler and closer to Lake Michigan, there will be issues in some vintages for both Cabernet Franc and Cabernet Sauvignon, in terms of ripening to eliminate green, bell pepper characteristics. Clone evaluations and cultural methods over the next several years will help to solve ripeness issues. There are also cellar manipulations that reduce green characters due to 2-isobutyl-3-methoxypyrazine [the bell pepper compound].
Chambourcin
is an excellent resistant variety for Fennville.
Chancellor
would be much higher on the list but it's the poster grape for downy mildew. Vidal Blanc is a mainstay and
Chardonnel
is a white resistant variety that has a lot of promise.
REH:
Leelanau Peninsula was the second of Michigan's AVAs, established in April 1982. Back then, what did you see as the major advantages of this AVA and how has it delivered that potential today?