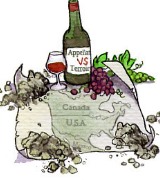 Taking Focus on Appellation
by Clark Smith
December 9, 2013
Appellation America has entered its second decade on the web. Much has changed since the start, but the core focus remains characterizing the unique flavor profiles of North America's appellations and the natural influences and human cultural forces which influence them.
We understand that through objective evaluation of wines of these appellations, finding the recurring characteristics that typify such place is primary.
[>] see full story
Related Stories...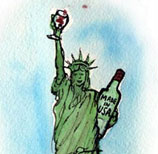 "American Wine" has existed since the first Europeans brought their vinous heritage and traditions to these shores from the Old World. In that sense, Appellation America is over 400 years old. American wine has endured ecological, political and social hardships over the centuries, but it has evolved with each challenge.
       Up to the late 1800s, the vine thrived in America, with the epicenter of winemaking in the Midwest along the banks of the Ohio River and shores of Lake Erie. At the turn of the last century phylloxera and Prohibition would together transform the viticultural landscape of America. In the 20th century, California would emerge as America's dominate wine state (now producing 90% of the national total), but by the dawn of the 21st century winemaking would spread to every state in the union, with grapes grown in all but four. Across the 50 states exists the world's greatest diversity of climates, and virtually every species of vine can find a niche somewhere in America. Today, native, European, Asian, and hybrid varieties flourish in America, with upwards of 3000 wineries producing a vast array of wine types and styles. The United States now ranks as the world's 4th largest producer of wine with some 600 million gallons annually. Internationally, American wines are recognized as the equal of Old World wine powers like France and Italy, and the United States has more recently grown to be the 9th largest exporter of wine globally.
       As wine drinkers, Americans have progressed from knowing their wines by generic and producer names, to varietal names, and since the early 1980's a small but important movement towards appellation recognition has started to stir in the consciousness of American wine consumers. The "appellation-ization" of the American wine culture is gaining momentum, now with over 200 legally recognized American Viticultural Areas (AVAs).
       As far as the TTB (Tax & Trade Bureau) is concerned, any home-grown wine is eligible for labeling under the "America" appellation-of-origin; however, in practice, the use of America as an appellation is more often utilized for wines with less than 75% of their grapes originating from a single state – essentially wines that are multi-state blends. Still, for some producers in nascent winegrowing states, the use of appellation America is seen as a more marketable appellation-of-origin than even their own state name...which is too bad, since local pride and winegrowing should go hand-in-hand!

Bi-State Upper Hiwassee Highlands an AVA
By
Roger King
August 6, 2014
In the southern Blue Ridge Mountains of North Carolina and Georgia vineyards are small and few, yet the establishment of the Upper Hiwassee Highlands could bring much more.  [>] continue

Taking Focus on Appellation
By
Clark Smith
December 9, 2013

Tannat, Vibrant Across the America's
By
Barbara Trigg
May 6, 2013

Wine Tourism Day 2013
By
Roger King
March 4, 2013

Discovering Joy of Marquette
By
Barbara Trigg
November 9, 2012
[>] see all America features (86)

Remote Manton Valley New California AVA
By
Roger King
July 31, 2014

WAWGG Banquet Explores Washington State Terrior
By
Roger King
February 2, 2014

Whitehall Lane Winery, A 20 Year Story of Vineyards
By
Roger King
July 15, 2013