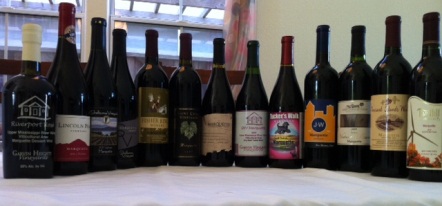 Discovering Joy of Marquette
Developed by the University of Minnesota as a cold climate hybrid with ancestory to Pinot Noir, Marquette is quickly expanding in the upper mid west and eastern states. The resulting wines are fresh and delightful.
by Barbara Trigg
November 9, 2012
---
<!>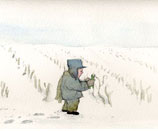 It's all fun and games when you're breezing down the ski slopes, starting snowball fights or ice- fishing, but cold weather- extreme cold weather-is definitely not as much fun for the hardy and optimistic folk growing grapes in the northern-most regions of the United States.
While grapes are grown and wine is produced in all fifty states, it is no secret that grapes thrive in Mediterranean climates such as California. The Golden State produces 90% of all grapes in America. This climate is ideal for Vitis vinifera, the European species of grapes which includes well known varieties such as Chardonnay and Cabernet Sauvignon. These grapes have proven successful elsewhere--in Virginia, New York and many other states--but they have difficulty thriving in the far north where temperatures frequently dip well below freezing.
The shorter growing season often fails to ripen grapes, and humidity can cause disease and rot. Growers often resort to burying vinifera vines over the winter—laying down the vines, covering them with dirt, and then removing the ground cover once the soils thaws in the Spring. These steps, which are neither practical nor cost effective, are, in many cases, unsuccessful. In the face of such difficulty, growers are seeking cold-hardy grapes which can be left on the trellis over winter and withstand the temperatures that can fall to -25F.
The University of Minnesota has been at the forefront of cold-hardy grape research for several decades. Researchers have brought us hybrid grapes such as Frontenac, Leon Millot, St. Pepin, Marechal Foch; all of which can survive extremely low temperatures. These red wine grapes grow under harsh conditions in many states and all make palate pleasing wines. But chances are, unless you are in the region, you will not have much of an opportunity to taste except at the winery or perhaps a few local restaurants.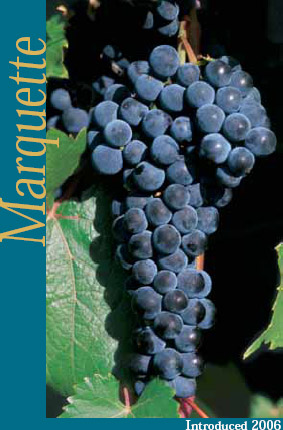 That may soon be changing. Appellation America started hearing reports, coming from wine competitions around the United States, about a new award-winning hybrid grape which is said to have many of the characteristics of Vitis vinifera. Appellation America was eager to learn more about this grape: Marquette.
Marquette is a complex hybrid, one that involves Vitis Vinifera as well as American species. For those who want to wrap their brains around the details, the hybrid includes MN 1094--a cross of V. riparia, V. vinifera, and other Vitis species--with Ravat 262, which is an offspring of Pinot Noir.
The hybrid was patented by the University of Minnesota in 2006. Currently planted from Vermont to Washington, the vines are just now starting to produce fruit from mature vines. It is named after Pere Marquette, a Jesuit missionary and 17th century explorer in North America and has been said by the University of Minnesota to be a cousin of Frontenac and a grandson of Pinot Noir. We wanted to meet this grape....
Eleven wineries in six states submitted wines for our curious panel to taste and evaluate. As described by the University of Minnesota, panelists anticipated a complex medium-bodied red with aromas and flavors of cherry and black current, blackberries, pepper, plum, tobacco, leather, and spice. Marquette was described in numerous articles and winery marketing material as having a mouth-feel somewhere inbetween Pinot Noir and Merlot.
Many of the entries had won awards, several of the wineries were sold out of their Marquette wines, and news was that the Marquette vines are in very short supply. Growers have rushed to plant this hybrid—some without even tasting the wine first! The buzz was good; would the wines hold up to the hype?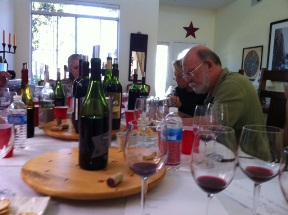 All in all, the panel was delighted with the wines. They evolved quickly in the glass, revealing nuances over the two hour tasting. In general, the panel found deep ruby-colored wines, light but firm tannins, balancing acidity, lots of fruit, in a light to medium bodied wine. There were certainly differences in the wines, perhaps regional characteristics but also winemaking styles. One panelist called Marquette a "winemakers wine", one where the winemaker can greatly influence the final wine depending on how the wine is treated in the cellar. Marquette is a liquid canvas that allows for all different expressions.
Regardless of the differences, each of the Panelists agreed that the wines would be delightful food wines—ones that could stand in for Pinot Noir at most meals. While the wines may have similarities to Pinot and Merlot, they still retain their own distinctive personality—a mix of rustic adventure and refined style. Marquette definitely lives up to its hype and should find its way into wine stores around the country as more growers and consumers start clamoring for it.
Here are the wines we tasted and a summary of the panelist notes.
MINNESOTA
Garvin Heights Vineyard:
2009 Marquette: This first vintage has intense ruby bordering on purple color with blackberry, molasses and grade B syrup, and a touch of smokiness on the nose. The taste is refreshing and bright. It opens with ripe blackberry and sneaks to a subtle minty finish. The tannins are light, dry, and slightly prickly. Perfect with grilled burgers or a thick juicy rib eye.
Marquette Rose: Pale salmon in hue with a mineral and white blossom nose. Light with tangy strawberry Kool-Aid flavors.
Riverport Rose Port: Raspberry Tootsie Pop licked all the way down to the chewy chocolaty center. Medium bodied with a light and pleasant sweetness.
Carlos Creek Winery:
2011 Marquette: This is a classic French-styled wine that oscillates between Pinot-like red and blue fruits. Round and lush in the mouth with hints of French toast and tart cherry pie. This is elegant and balanced winemaking with a beautiful integration of flavors. One panelist picked up vanilla bean and cowboy belt leather in the nose. The winemaker noted the use of Minnesota oak, so this is truly a local product that would no doubt appeal to wine loving tourists and locals alike. A panel favorite!
Saint Croix Vineyards:
2009 Marquette: Fat, round toasted oak—the biggest body Marquette in the lineup. California-styled winemaking. Toasted oak, Santa Rosa plum, vanilla. Another panel favorite.
NEW YORK
Tug Hill Vineyards:
2010 Marquette: Estate bottled: With a deep ruby hue that paints the glass, this wine is dry, plumped with tart brambly cherries and we enjoyed a fun hint of leather and spice. Light tannins and palate cleansing acidity overall make this a nicely balanced wine.
Thousand Island Winery:
2010 Marquette: For this wine, another panel favorite, I must quote our poet panelist, Kerry." Woodsy Vitis riparia nose. Different! I love this wine! Fun Concord and violet nose. Good acid, round tannins, grape blossom finish. A bright, sassy, glimmering drag queen in the Marquette bunch."
WISCONSIN
Fisher King Winery:
2011 Marquette: Cherry cola nose with a hint of mushroom. Tangy and mouthwatering red fruits on the plate, mild tannins and a hint of smoke. We detected higher acid in this wine. An interesting dry, almost powdery, finish. Perhaps the most Pinot Noir-like in the group.
SOUTH DAKOTA
Tucker's Walk Vineyard:
2011 Marquette: Molasses, baked biscuit, and light red fruit on the nose. Tart red currants with a fresh mint leaf finish. Zippy acidity. How amazing to taste such a nicely crafted wine from South Dakota! This was a first for the panel. Great potential there.
VERMONT
Shelburne Vineyard:
2011 Marquette: Deep ruby with oak and brown sugar on the nose. This is a dry, pleasant, light young wine. Very well received until we tasted the next wine….
2010 Marquette Reserve: The favorite of the panel. Round plum and blueberry, holiday pie spice box, elegant tannin structure with a clean racy acidity. This well-crafted wine would be enthusiastically welcomed at our Thanksgiving table. This was the number one pick of the panel and may give a glimpse of the future of Marquette.
Lincoln Peak Vineyard:
2012 Marquette: this is a delightful light bodied wine with pleasing acidity. Fresh fruit flavors are highlighted with notes of tart quince and lime. Panel members described it as balanced and alluring.
IOWA
Park Farm Winery:
2009 Vintners Reserve Marquette: Brambly red raspberries, dry with light astringency, balanced.
Jasper Winery:
Sadly, Jasper wines arrived damaged in transit. But we urge visitors to look up the website and visit the winery located outside Des Moines.
The consensus? The wine indeed had the medium body, and in some cases, the elegance of Pinot Noir. The panel found spice, pepper, and lots of the bold fruit flavors found in Zinfandel, although some of the wines bent more to the Merlot end of the spectrum with darker fruits. Alcohol ranged from 12.7 to 14.5% (except the Port at 20%).They ranged in price from about $15.00 to $30.00, which is amazing for this quality of wine and the difficulty required to bring the grape to bottle. We understand it is flying out of the tasting rooms and understand why that is. We would urge readers to seek out Marquette. It will be fun watching how the market grows for these young wines and to see how they age.
When traveling to these regions, we urge you to visit these and other wineries to taste the wines. Grape growing adds to the diversity of a regions' agriculture and in doing so may help keep the land open and in farming. A local wine industry goes hand in hand with the nationwide popularity of local farm to table produce. Let's support these pioneers!