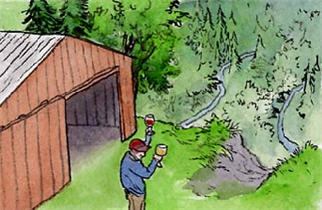 A Wine Rite-of-Passage
in the Ozark Highlands
The Ozark Highlands is an appellation without pretension, where the wine speaks for the land and for itself. Come along for an introductory trip on this lesser-known Missouri wine trail.
by Tim Pingelton
May 5, 2008
---

nthropologists have written
much on the notion of a "liminal" stage in rites of passage. This is the point at which participants pass from their old state of being into a new state of being – you know, like when the fiancée is toted over the threshold, or when the boy becomes a man, or when the outsider joins the club. My buddy Chris came along for a tour of Missouri's
Ozark Highlands
appellation, and I played the amateur anthropologist in observing his "liminal" transformation from import wine aficionado to local wine enthusiast.