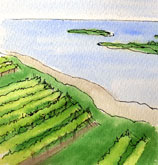 The Southeastern New England AVA is a narrow band of coastal land stretching from just south of Boston, through Rhode Island, and as far westward as New London, CT. The appellation also includes all the coastal islands, among them Martha's Vineyard, which has its own sub-AVA designation. The coastal nature of the entire AVA is ensured by its boundaries, which never venture more than 15 miles inland from the shore. Thus, the maritime influences of Long Island Sound, Cape Cod and Massachusetts Bay are always primary. The ocean moderates seasonal extremes, giving average daily temperatures of 30 F in January, and 70 F in July. The maritime effect also stabilizes daily temperature variations, with day-night fluctuations of 20 F or less. The overall climate is suitable for cold-hardy vinifera varieties, such as Chardonnay, Pinot Noir and Riesling, as well as French hybrids, including Seyval and Vidal Blanc.

WAWGG Banquet Explores Washington State Terrior
By
Roger King
February 2, 2014
The multiple appellations of Washington will be tasted in a unique banquet dinner at this years Washington Association of Wine Grape Growers Annual Meeting and Trade Show. Nuances of that regional diversity have been paired with the meal being prepared by Chef Dan Carr.  [>] continue

Taking Focus on Appellation
By
Clark Smith
December 9, 2013

Whitehall Lane Winery, A 20 Year Story of Vineyards
By
Roger King
July 15, 2013

Embracing Virginia's Terroir
By
Richard Leahy
June 2, 2013

Shake Ridge Ranch - Gem of the Sierra
By
Roger King
May 16, 2013

Tannat, Vibrant Across the America's
By
Barbara Trigg
May 6, 2013

Welcome Middleburg Virginia AVA
By
Roger King
January 4, 2013

Humboldt County: Is Too Much Terroir Possible?
By
Clark Smith
October 14, 2012