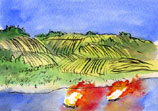 In 1663 King Charles II explicitly encouraged winegrowing in Rhode Island through the colony's Royal Charter. Wineries operated in the state until Prohibition. But the state's modern winemaking era did not begin until 1975 when Sakonnet Vineyards was established in Little Compton. Today, there are a handful of small to medium-sized wineries, producing high-quality wines from French hybrid and cool-climate vinifera varieties. Although not really an island, the state does have a large coastline-to-land ratio and is commonly referred to as the Ocean State. The Gulf Stream-warmed Rhode Island Sound and Narragansett Bay provide tremendous maritime moderation in both summer and winter, making Rhode Island's climate one of the mildest in the east. Winter temperatures rarely dip below zero and cooler summers with longer autumns produce fine European-style wines from vineyards within the Southeastern New England AVA.

Whitehall Lane Winery, A 20 Year Story of Vineyards
By
Roger King
July 15, 2013
From initial vineyard plantings on Whitehall Lane in the 1800's the evolution to today's Whitehall Lane Winery has been a story of vineyard. The first 25 acre vineyard property is the winery site, yet the definition of multiple Napa Valley sub appellations is formed in a wide ranging set of vineyards all showing unique profile and character in their wines.  [>] continue

Embracing Virginia's Terroir
By
Richard Leahy
June 2, 2013

Shake Ridge Ranch - Gem of the Sierra
By
Roger King
May 16, 2013

Tannat, Vibrant Across the America's
By
Barbara Trigg
May 6, 2013

Welcome Middleburg Virginia AVA
By
Roger King
January 4, 2013

Humboldt County: Is Too Much Terroir Possible?
By
Clark Smith
October 14, 2012

Historic Buena Vista Winery Restored
By
Barbara Trigg
September 18, 2012

Three Days in Humboldt County and Willow Creek
By
Barbara Trigg
August 22, 2012