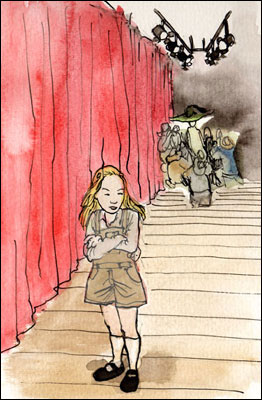 Pinot Blanc
Always the bridesmaid, never the bride. Poor Pinot Blanc, you always seem to be in the shadow of that noble sister who gets all the glitz and glory, Chardonnay. Her name must ring in your ears constantly; burn even. "Chardonnay! Chardonnay! Chardonnay!" You poor little thing. But your lack of popularity is not a result of your shortcomings; you've had some wonderful sparkly moments in Alsace, Italy, and even in California. However, it's true, along-side your step-sister you can, at times, appear a little dull - your shoulders are leaner, your figure subdued and your beauty more subtle. Still, your personality is refreshingly tart, and you know, they do say that beauty is only skin deep.

Appellations Growing Pinot Blanc Grapes
Appellations producing the most Pinot Blanc wines:
Pinot Blanc Grape Details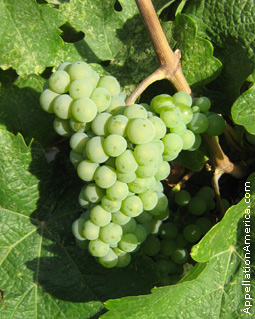 Pinot Blanc (aka. Pinot Bianco, Weissburgunder, Klevner)

In California, Pinot Blanc is used mainly to produce bubbly bruts. Pinot Blanc's rather neutral flavor and brisk natural acidity make it a popular choice for sparkling wines, not just in California, but also in France, as in Cremants de Alsace and Cremants de Bourgogne, and for Italy's Pinot Spumante. No one will claim that this modest white variety is the noblest grape in the vineyard. But a few dedicated experimentalists haven't given up on this humblest of Pinots. With a delicate balance between the grape's natural tendencies and California's ripening potential, they are revealing a very satisfying and more succulent side of Pinot Blanc. A natural mutation of the Pinot Noir grape, this variety is best known in northern European regions like Alsace, most of northern Italy, and in parts of Germany. Its main claim to popularity is its uncomplicated, mildly-flavored wines, which can often be refreshingly tart from cool growing regions.

Anderson Valley
Alsace Wines Fested in Anderson Valley
By
Dan Berger

Umpqua Valley
Go Ahead, Say It: Umpqua
Better You Should Taste It
By
Dan Berger

Leelanau Peninsula
Black Star Farms:
Wine Agritourism Grows Up
By
Eleanor & Ray Heald

Okanagan Valley
Gray Monk Estate –
Winery as Terroir
By
John Schreiner

Old Mission Peninsula
Left Foot Charley
A New-Wave Model For Michigan
By
Eleanor & Ray Heald

Santa Maria Valley
My, has the Bien Nacido Vineyard come a long way in three decades.
By
Dan Berger

Santa Maria Valley
Bien Nacido: The Vineyard is the Brand
By
Dennis Schaefer