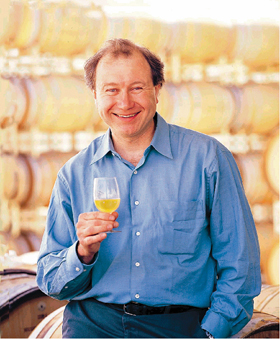 The Master of Edna Valley
An Interview with Christian Roguenant
Baileyana and Tangent Winery's winemaker oversees an ever growing production of Chardonnay and Pinot but he is particularly eager to see the U.S. introduction of lesser-known varietals such as Albarino and Gruner Veltliner.
by Laurie Daniel
July 16, 2007
---
Laurie Daniel (LD)
: The Edna Valley AVA has long been known for Chardonnay, but early attempts with Pinot Noir were less successful. Why?
Christian Roguenant (CR)
: We at first were growing Pinot Noir the same way as many other grapes, and really you've got to be very particular about the canopy management and leaf pulling and do those interventions in the vineyard at a very precise time. The second item, which is as important, is that we mostly had the Clone 13, the Martini clone, which generally is a heavier producer with a little bit less color. The farming is extremely important on that particular clone.
LD
: What sorts of adjustments have been made, especially in your Firepeak Vineyard?
CR
: We have improved significantly the growing of Pinot Noir in the Edna Valley. I'd say No. 1, row orientation. From going east-west, we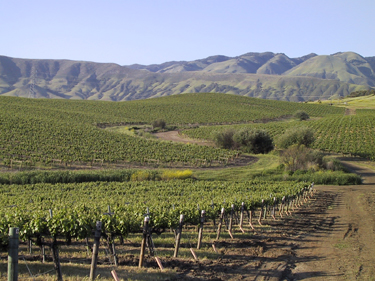 now go north-south, so you have a much better, even distribution of sun exposure. The clones - we talked about that - they're obviously very key. Smaller berries, smaller production, thicker skins. They have a lot to do with the quality of fruit we receive at harvest. The rootstock now matches the soil a lot better. The new vineyards at Firepeak are planted with 101-14 and the 1103P. These rootstocks actually deal better with excess moisture in the spring, and they also help devigorate the vines a little bit, so we don't have excess growth and we have better set. We always have quite a bit of moisture because of the heavy clay.
We have also modified the trellising system. We now use VSP, vertical shoot positioning, versus the ballerina, which was a split canopy. Now we use a taller and higher panel of canopy for better photosynthesis. The leaf pulling is a lot more extensive now, especially for the morning sun. For the Pinot Noir that's really key, to get the fruit exposed to the sun early on, so we don't have the burn effect but we have better phenolics and anthocyanins formed during the veraison.
We have now also improved the ground cover. Anytime you have some heavy soil, you have chances of compaction. So what we do now is alternate, row to row, ground cover and discing. One row will have ground cover and the next row we disc, and the next year we rotate. By growing bell beans or Cayuse oats, we can replenish nutrients to the soil. A lot of the soil in the Edna Valley is high in magnesium because it's mostly residue from volcanic and serpentine soil, so by doing higher addition of calcium and potassium, we're able to balance the nutrients better for the vines.
We have three sets of catch wires, and we can move up the canopy at pretty much any time a lot easier so we keep the shoots upright. That's extremely important in the Edna Valley, because we have a lot of wind from the ocean. We need to counter the wind forces, and the canopy's a lot less damaged. So those, to me, are the top elements that contributed to really increasing quality. It's not one thing – it's a lot of things.
LD
: Are you finding that certain Pinot Noir clones are working out better in Edna Valley than others?
CR
: Yes, there are three main clones. I will not rank them, because they vary from year to year. The 777 is always doing very well, the 667 and the 2A. Those clones seem to be ahead of the Pommard, which is a little bit larger cluster, larger berries, a heavier producer, with less phenolics, less tannin. But it's silkier. And the 115 is probably the clone that has the most earthiness to it. Less fruit, but more earthy character. They all contribute to the blend. But if we were to plant only three, I would go with the 777, 667 and 2A.
LD
: Why was Chardonnay so successful early on?
CR
: Because it's a very forgiving grape to grow, like Cabernet. You don't have the impact of the sun exposure on the fruit to get rid of the veggie character that can happen to Pinot Noir if it isn't exposed properly to the sun – you know, that tomatoey and celery flavor. Obviously, it's a white varietal, so there's no anthocyanin color pigments to deal with. Chardonnay is just overall a lot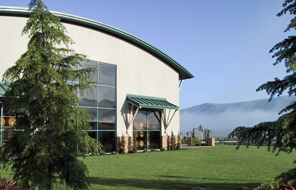 easier to grow. It's like, if you were cooking chicken, it's really hard to miss it. You put it on the grill, and you can overdo it a little bit, but it's very forgiving. On the other hand, it's like farming a garden when you farm Pinot Noir. It's just very delicate. We have learned in the last 25 years all the things we needed to do.
LD
: Newer plantings of Pinot have been on hillsides, while the earlier vineyards were on the flats. How much of an issue has that been?
CR
: I think better drainage probably helped Pinot Noir. It makes the wine more delicate. There is a rule in Burgundy that we have. When you have a very well-drained soil, the wine is generally a little bit more acidic, has lower pH and higher fruit, and a little bit less color but more elegance. If you go to the flat, in heavier soils, you get higher crop, more color, less red fruit components, higher pH, lower acidity. So going on the slope helps a little bit.
LD
: Baileyana's sister winery, Tangent, has made a big commitment to Albarino. Why do you think Edna Valley is well suited to that grape variety?
CR
: Galicia is an area that is similar as far as temperature to where we are. We are very close to the ocean. There's a lot of wind, a lot of moisture. We have less rainfall than they would have, but having soil here that retains good moisture, I think it is going to be good. I think Albarino likes moisture in the soil. We have a very similar flavor profile to what they would have. It has a lot of brine character, almost a salty character. You have the lime-flower smell. Turpenes are an interesting component in Albarino, and in the future we will analyze those compounds to find out if they're similar in Galicia versus here. We have low pH, high acidity, we seem to have similar flavors, we're very close to the ocean, so why not? So far, the couple of acres we have planted have had positive results, so we believe we have a good spot.
LD
: How much more Albarino are you planting?
CR
: Eventually, we want to reach close to 50 acres. Some we grafted, some we planted from scratch. The production will ramp up to something like 10,000 cases in the next three to five years. We probably will be adding some other varieties from that part of the world. The Loureira is one of them. The Treixadura is another one as well.
LD
: What's the topography where the Albarino is planted?
CR
: We went for the he