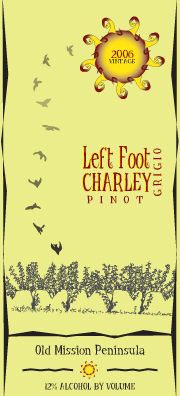 Left Foot Charley
A New-Wave Model For Michigan
Something new is unfolding in the American consciousness. We are beginning to appreciate "place". Our tables, our songs, our whisky, our wine needs to be from somewhere or it all becomes just another white page.
~Bryan Ulbrich
by Eleanor & Ray Heald
July 13, 2007
---
Left Foot Charley
(LFC) was conceived in 2004 when proprietor and winemaker Bryan Ulbrich (then
Peninsula Cellars
winemaker) began making micro lots of wine from small growers in Michigan's
Old Mission Peninsula
AVA. Because Ulbrich believes that Riesling, Pinot Blanc, Pinot Gris (which the winery labels Pinot Grigio) and Gewurztraminer are stellar varieties for the appellation, these varieties are his focus.
Although the model of a winery that sources all its grapes has been successful on the U.S. "left coast," it's unique point number one for LFC and Ulbrich intends to keep it that way. To date, no other Michigan winery does this.
VINEYARD SOURCES
Four vineyards, all located in the Old Mission Peninsula AVA, are keys to LFC's current production of 1,500 cases, slated to grow to 4,000 cases with harvest 2007 and then a 6,000-case goal down the road.
Island View Vineyard owned by Werner Kuehnis, Ulbrich's winery partner at 40 percent share, supplies 12 year-old
Pinot Blanc
from what Kuehnis claims are "1,100 vines in my front yard." Glacial soils are loose, sandy rock on which five different clones of Pinot Blanc are grown principally on 3309 rootstock and trained vertically (standard VSP).
"The interesting element at this vineyard," Ulbrich says, "is that the first vineyard owner only wanted vines to run along his driveway; he didn't care about sun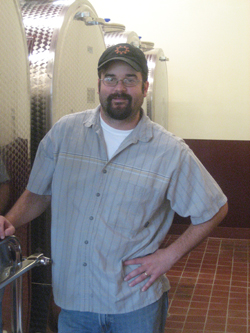 direction and the vines are east-west oriented. What Kuehnis has been doing is thinning the vines from the backside, removing all the shaded fruit early. In essence, what's harvested is Pinot Blanc that sits in the sun all day long. It has become an advantage and the wine has taken on viscosity and a lot deeper fruit character."
Tom Scheuerman owns Seventh Hill Farms with 2 acres (2,500 vines) of southern exposure 11-year-old
Riesling
, on loose sandy soils, planted equally to clones 198 and 239 on 3309 rootstock and VSP trained. "We pick these grapes with a philosophy that we're following with all LFC Rieslings -- not worrying about sugar and focusing on acid levels," Ulbrich maintains. "We want wines with lower alcohol -- a key to great Riesling in a German style where we may have only 9 percent alcohol with a percent or two of residual sugar and acid as the defining note. To get this, picking is at 19 to 19.5 degrees Brix.
"Old Mission Peninsula AVA Rieslings can be phenolic and phenol management is big. We're shooting for more whole cluster pressing using a tank press. Alcohol and phenols create bitterness, which in Riesling is often compensated with residual sugar. But that creates a wild mouthfeel."
Leonard & Eddie Ligon own Leonard Farms, a sandy-loam soil, 80-acre, older cherry orchard with some virgin spots. It's the source of 3 acres of
Pinot Gris
(clone 58 on Scott Henry trellis to counter-balance vigorous soils) and 2 acres of Gewurztraminer for LFC, both planted in 2005. A first crop will be harvested in 2007, along with 1 acre of
Merlot
.
Pinot Gris is sourced from Tale Feathers Vineyard owned by Gary and Theresa Wilson. In sandy-gravelly soils, two acres of clone 58 on 3309 rootstock (VSP trellis) were planted in 2003 on this lower acid soil site on one of Old Mission Peninsula's higher elevations on the crest of a ridge.
"I need to pick this vineyard early to obtain the higher acid levels that I like to have in a wine labeled Pinot Grigio," Ulbrich contends. "I don't direct viticultural efforts for any of my growers. I can source all my grapes from these professional grapegrowers because I have long-established relationships with them."
However, in order for LFC to expand its production, grape farmers now on board must also grow more grapes. "Some vineyards like Werner Kuehnis'," Ulbrich says, "will stay maxed at 250 cases and that's all we'll have from that source. I'm not looking for other growers of Pinot Blanc, but other sources will plant more of the other varieties."
To keep his fingers in the growing aspect, Ulbrich has a half acre of Riesling under long-term lease for which he does all the vineyard work. "That's enough," he says. "I have to focus on winemaking."
URBAN WINERY
The name? Quite unusual by Michigan standards. At an early age, Ulbrich's mother tagged him with this nickname because his 'impulsive personality' and left foot that 'hung up a little,' made him somewhat clumsy -- a word no one will ever attach to his new winery business model or his wines.
LFC is the first Michigan winery to open in an urban facility - The Village of Grand Traverse Commons, in close proximity to Traverse City's Front Street shopping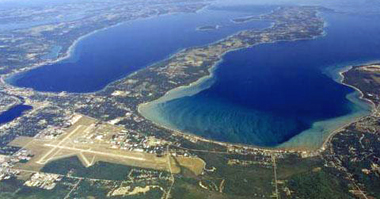 district that draws locals and tourists year-round. This 64-acre parcel, once a northern Michigan state hospital campus, currently under redevelopment as a mixed-use project in a Michigan Tax-Free Renaissance Zone, has attracted investments such as shops, apartments, restaurants, art galleries and a yet-to-open hotel, in what may well be the country's largest historic re-use project. LFC leases the renovated laundry facility of the former hospital for its winery operations and tasting room.
Grand Traverse Commons developers are preserving both the castle-like 19th century buildings of the former hospital, as well as the 480-acre wooded campus that surrounds them, thus retaining a favorite place for area hikers and cyclists, of which Ulbrich is one, since he rides his bike to work daily.
"We wanted to use an existing building," Ulbrich comments. "It's something that I and my wife Jen believe in. The tile floors and walls are easy to clean. It had all the needed infrastructure that required only some updating. The windows and openness provide plenty of daylight. This Grand Traverse Commons development is the place to be down the road. This was our chance to get in early."
ONE-OF-A-KIND TANKS
Most stainless steel fermentation tanks in North American wineries are tall cylinders. Those at LFC are 3,000-litre closed-top ovals (measuring 3.5 feet wide, 5 feet long and 7.5 feet high), equipped with cooling jackets covering more than 50 percent of the tank's exterior surface. Custom made in the Republic of Slovenia, they are the first of a kind and made according to Ulbrich's specifications. They mimic the classic shape of wooden ovals used in Germany. "This shape," Ulbrich claims, "distributes yeast lees into a thin layer at the bottom of the tank and reduces the chance that yeast will smother under their cumulative mass. Stinky wines come from suffocating yeast."
Efficient and rapid cooling jackets enable the winemaker to halt fermentation at will, especiall