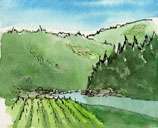 The Rogue Valley doesn't usually receive as much attention as Oregon's northernmost AVA, the Willamette Valley, which is unfortunate because it offers a richer diversity of climate and a wider variety of grapes.

The appellation is a series of interlocking mountain ranges and river valleys in Oregon's southern extreme, on the California border. The valley is 70 miles wide by 60 miles long, and hosts less than 20 wineries with 1,100 acres under vine. The climate is distinctly warmer in this part of the state, although the valley hosts a wide range of macroclimates.

In the AVA's eastern portion, heat-seeking red varietals, such as Syrah and Cabernet Sauvignon, thrive in a warm, dry climate on south-facing slopes nearly 2,000 feet in elevation. In the heart of the appellation lays Oregon's newest AVA, Applegate Valley. Here, vineyards range from 1,000-1,500 feet, with Cabernet Sauvignon and Merlot leading the pack in a range of varietals that flourish. In the valley's western portion, at the base of the Coast Range, the climate is cool and wet. Pinot Noir, Pinot Gris, Riesling and Gewürztraminer are just a few of the cool-climate varieties that gain complexity in the long growing season here.

WAWGG Banquet Explores Washington State Terrior
By
Roger King
February 2, 2014
The multiple appellations of Washington will be tasted in a unique banquet dinner at this years Washington Association of Wine Grape Growers Annual Meeting and Trade Show. Nuances of that regional diversity have been paired with the meal being prepared by Chef Dan Carr.  [>] continue

Taking Focus on Appellation
By
Clark Smith
December 9, 2013

Whitehall Lane Winery, A 20 Year Story of Vineyards
By
Roger King
July 15, 2013

Embracing Virginia's Terroir
By
Richard Leahy
June 2, 2013

Shake Ridge Ranch - Gem of the Sierra
By
Roger King
May 16, 2013

Tannat, Vibrant Across the America's
By
Barbara Trigg
May 6, 2013

Welcome Middleburg Virginia AVA
By
Roger King
January 4, 2013

Humboldt County: Is Too Much Terroir Possible?
By
Clark Smith
October 14, 2012