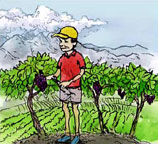 The new Southern Oregon AVA has no Pinot envy. In fact, the resident wineries of the appellation are banking on defining Southern Oregon as an alternative to the Pinot-centric Willamette Valley.

The large Southern Oregon AVA is home to a diverse mix of climates and terroir. In general, though, most vineyards in Southern Oregon benefit from significantly warmer temperatures and a much drier climate relative to their northern neighbors.

The new AVA encompasses the Applegate Valley, Umpqua Valley and Rogue Valley AVAs as well as a connecting corridor of land between the latter two regions. While these regions may not register with the average consumer outside the state, they are well known in the Oregon wine industry as a source of quality wines made from heat-seeking red grapes such as Merlot, Cabernet Sauvignon and Syrah. If Earl Jones, the petitioner of the AVA and owner of Abacela Vineyards, has his way, Tempranillo will eventually be listed among the other Iberian varietals.

The petition and subsequent approval of the large Southern Oregon AVA was a departure from the trend in Northern Oregon towards establishing small, terroir specific AVAs. Still, the move has met with almost unanimous approval throughout the state. While the producers of the Willamette Valley have proven they can make, market and sell a single grape variety (Pinot Noir), the Oregon wine industry needs the likes of the Southern Oregon producers to ensure that the industry as a whole isn't confined to a single grape. Given the passion and dedication of Southern Oregon producers, it shouldn't be long before consumers recognize that Oregon doesn't just produce Pinot Noir.

Bi-State Upper Hiwassee Highlands an AVA
By
Roger King
August 6, 2014
In the southern Blue Ridge Mountains of North Carolina and Georgia vineyards are small and few, yet the establishment of the Upper Hiwassee Highlands could bring much more.  [>] continue

Remote Manton Valley New California AVA
By
Roger King
July 31, 2014

WAWGG Banquet Explores Washington State Terrior
By
Roger King
February 2, 2014

Taking Focus on Appellation
By
Clark Smith
December 9, 2013

Whitehall Lane Winery, A 20 Year Story of Vineyards
By
Roger King
July 15, 2013

Embracing Virginia's Terroir
By
Richard Leahy
June 2, 2013

Shake Ridge Ranch - Gem of the Sierra
By
Roger King
May 16, 2013

Tannat, Vibrant Across the America's
By
Barbara Trigg
May 6, 2013