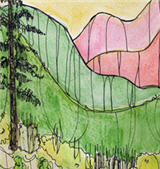 The new Red Hill of Douglas County AVA has made a few Willamette Valley producers red in the face. The little known and little planted region in Oregon's Umpqua Valley AVA recently received appellation status, despite criticism from Willamette Valley producers in the Dundee Hills region.

The Dundee Hills has a long been referred to as the Red Hills of Dundee. However, Wayne Hitchings, a vineyard owner in Douglas County, petitioned for a Red Hills AVA in late 2002. Later, when the TTB decided to grant appellation status based on the name Red Hill of Douglas County, it effectively made the group supporting the Red Hills of Dundee change their name to Dundee Hills to avoid consumer confusion. Although the the northern Willamette Valley region is better known for its wine production, the petitioner established, at least in the TTB's eyes, a legitimate claim for the appellation based on historical, climatic and soil studies.

The appellation shares the same Jory soil as the Dundee Hills, but climatically it is slightly warmer and drier relative to the Willamette Valley and cooler than surrounding vineyard sites in the Umpqua Valley. Only time will tell if there will be consumer confusion regarding the name of this new AVA. However, since no wines are currently bottled using the appellation, the only confusion may be why the appellation was needed, unless it was simply to preclude Willamette Valley producers from using Red Hills of Dundee on their packaging?

WAWGG Banquet Explores Washington State Terrior
By
Roger King
February 2, 2014
The multiple appellations of Washington will be tasted in a unique banquet dinner at this years Washington Association of Wine Grape Growers Annual Meeting and Trade Show. Nuances of that regional diversity have been paired with the meal being prepared by Chef Dan Carr.  [>] continue

Taking Focus on Appellation
By
Clark Smith
December 9, 2013

Whitehall Lane Winery, A 20 Year Story of Vineyards
By
Roger King
July 15, 2013

Embracing Virginia's Terroir
By
Richard Leahy
June 2, 2013

Shake Ridge Ranch - Gem of the Sierra
By
Roger King
May 16, 2013

Tannat, Vibrant Across the America's
By
Barbara Trigg
May 6, 2013

Welcome Middleburg Virginia AVA
By
Roger King
January 4, 2013

Humboldt County: Is Too Much Terroir Possible?
By
Clark Smith
October 14, 2012