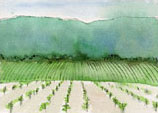 The Alexander Valley AVA sits at the top of Sonoma County with about 15,000 acres of much prized vineyards. Within the 76,000 total acres of this AVA, there are a variety of microclimates supporting a substantial range of grape varieties. While Cabernet Sauvignon reigns supreme on the gravelly terrain of the valley floor, the Alexander Valley AVA also produces notable Chardonnay, Zinfandel, Merlot, and Sauvignon Blanc. Even some cooler-climate varieties, like Gewürztraminer and Riesling, have found a niche here in the shadow of Mendocino. Just enough coastal fog finds its way up the Russian River Valley to create cool evening and morning conditions. This, however, gives way to hot mid-day temperatures in what is overall a relatively warm growing area. Originally, the AVA was designated for the alluvial floodplain vineyards on both banks of the Russian River, but those boundaries have since been expanded to include mountainside vineyards.

A Day in the (Rutherford) Dust
By
Barbara Trigg
August 2, 2013
While the early days of Napa Valley always mentioned the dust in summer, Rutherford Dust referred to an entirely different context. During a recent tasting in Napa Valley held by the Rutherford Dust Society a wide wide range of Rutherford wines shed new light on the long term meaning.  [>] continue

Whitehall Lane Winery, A 20 Year Story of Vineyards
By
Roger King
July 15, 2013

Embracing Virginia's Terroir
By
Richard Leahy
June 2, 2013

Shake Ridge Ranch - Gem of the Sierra
By
Roger King
May 16, 2013

HR9 Supports (CA) Historic Vineyard Society
By
Roger King
May 9, 2013

Tannat, Vibrant Across the America's
By
Barbara Trigg
May 6, 2013

Welcome Middleburg Virginia AVA
By
Roger King
January 4, 2013

Humboldt County: Is Too Much Terroir Possible?
By
Clark Smith
October 14, 2012