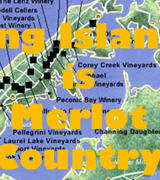 Simply Merlot Paradise
by Clark Smith
June 30, 2009
Long Island probably doesn't come to mind as a vital wine region but our Best-of-Appellation tasting proved to be a wake up call to Long Island Merlot. Really. Not just okay Merlot. Truly world class wines. Who would have thought?
[>] see full story
Related Stories...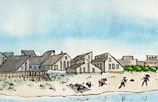 Although winegrowing records for the South Fork of Long Island date to colonial times, it was not until 1979 that the first commercial plantings of vinifera varieties took place. This peninsula, commonly called "The Hamptons", is about 54 miles long and ranges from just one-half mile to 10 miles wide, with Atlantic Ocean influence ever at hand. Despite being next door to each other, there are notable differences between the South Fork and the warmer North Fork. The South Fork is more exposed to onshore Atlantic breezes, delaying bud-break by as much as three weeks. Even after bud-break, the area is frequently foggy, keeping early season temperatures and sunshine hours lower than on the North Fork. By the end of the growing season, the seemingly subtle weather differences between the Forks add up to quite different overall climates. The Hamptons are generally very cold to moderately cool, while the North Fork is moderately cool to relatively warm. The damper silt and loam soils of The Hamptons, along with climactic differences, create a unique style, with wines from The Hamptons generally being more restrained and less fruit forward than wines from the North Fork.

Whitehall Lane Winery, A 20 Year Story of Vineyards
By
Roger King
July 15, 2013
From initial vineyard plantings on Whitehall Lane in the 1800's the evolution to today's Whitehall Lane Winery has been a story of vineyard. The first 25 acre vineyard property is the winery site, yet the definition of multiple Napa Valley sub appellations is formed in a wide ranging set of vineyards all showing unique profile and character in their wines.  [>] continue

So Many Grapes, So Little Land to Grow Them On
By
Roger Morris
June 30, 2009

The new-Old World traditions of the Hamptons, Long Island
By
Lenn Thompson
February 26, 2006
[>] see all Hamptons Long Island features (2)

Embracing Virginia's Terroir
By
Richard Leahy
June 2, 2013

Shake Ridge Ranch - Gem of the Sierra
By
Roger King
May 16, 2013

Tannat, Vibrant Across the America's
By
Barbara Trigg
May 6, 2013

Welcome Middleburg Virginia AVA
By
Roger King
January 4, 2013

Humboldt County: Is Too Much Terroir Possible?
By
Clark Smith
October 14, 2012