Simply Merlot Paradise
Long Island probably doesn't come to mind as a vital wine region but our Best-of-Appellation tasting proved to be a wake up call to Long Island Merlot. Really.
by Clark Smith
June 30, 2009
---

ith his unlikely Australian accent and professional demeanor, Russell Hearn is Long Island's acknowledged Merlot sage.
When he agreed to serve as Regional Advocate in our deliberations and flew out to Napa to instruct our panel, we frankly weren't expecting to be blown away. Hey, it's
Merlot
. How good can it be? I say this not as a
Sideways
-spawned trend follower, but simply from thirty-five years of tasting the world's most consistent-yet-often-boring grape, a reliable choice which seldom ascends to stardom. Know what I'm sayin'?
Yet this place is different. "The North Fork of Long Island is one of the few places in this country where Merlot makes a wine of distinctive character,"
Eric Asimov
of the New York Times recently opined, a courageous assertion in a city where snubbing the local vintners is an unhappily popular sport.
Like its
Rieslings
, New York's Merlots benefit from its special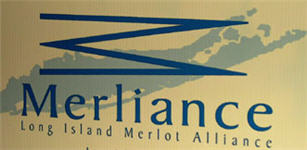 natural advantages of long summer day length due to its northern latitude, combined with the moderating influence of its large bodies of water. A big bonus in northern climes – Long Island's mild winters have resulted in no reported winter kill at all over its 36-year
vinifera
history. It is, in fact, a very long island, sticking out into the ocean from Brooklyn on its west end, and terminating in two forks a hundred miles east of the Big Apple. The South Fork was the first to be cultivated, but due to real estate prices in the tony Hamptons, the North Fork now has the majority of planted vines.
"Because we extend so far out into the ocean," Hearn explained, "we're completely moderated by the water. We budbreak later in the Spring, and we have a very long, mild growing season, rarely getting into the 90's, and picking well into November. "
Long Island Merlot Vintages
2008 - A very cool, rainy year. However, low crop loads, trimmed by spring frost and poor berry set, were able to ripen, resulting in small quantities of solid, average-quality wines.
---
2007 - Possibly the best vintage on record. Very warm and dry, with no rain during harvest. Stunning wines, both red and white, across all varieties.
---
2006 - Coolest in history; not good for the reds. Couldn't quite ripen a full crop, but some good wines were made from low yield vineyards. No reserve wines. Whites were very good.
---
2005 - Hottest, driest year on record. Up to Oct 7th, best season on record. But for the next 8 days, 16 inches of rain. Low yield younger vines made some diluted wines if picked just after the rain, but for those who waited there was good recovery, and excellent wines were made.
---
2004 - Average year. Not intense, bit more dried herb. These wines are adolescent right now, and will show a lot better in two or three years.
---
2003 - Very cool and rainy. Wineries did well to make quaffable mainstream 2nd label.
---
2002 - An uncommonly hot season in which wines sometimes developed unusual earthy aromas.
---
2001 - Above average with nice long growing season
---
2000 - Cool early season but a wonderful dry harvest.
---
1999 - A very challenging cool year
---
1997 - Picture perfect
---
1995 - Hot, very dry, excellent year.
To my California mindset, the idea of such a long season left in the hands of some Wall Street stockbroker-turned-vintner sounded like a lethal combination for a delicate variety like Merlot.
In this I was mistaken. In no case did our panel find the impactful wine style I feared. No prunes, no baked aromas, no heat. Quite the contrary. These long, cool, sunny summer days which rarely exceed 90°F (percent humidity usually exceeds temperature!) develop extraordinary aromatics, imparting great complexity and distinctive sense of place, while at the same time maintaining remarkable grace and balance. Compared to California or even France, the Merlots of Long Island are very much on the feminine side. Their tannins tend to be quite round and velvety, and excessive alcohol or edgy flavors are more or less unknown.
But this is not to say that they won't age. In fact, when we were treated to wines of over a decade's age, we discovered that they still had considerable time to last and even to develop. Even wines from wet, dilute years benefitted from five years in the bottle and never suffered from the greenness which haunts Bordeaux in off years.
Dishing the Dirt
Simply put, Long Island is a sand bar. Its sandy soils are underlain with pure sand. That means good drainage, unless your particular site contains hard pan which might prevent percolation and give your vines wet feet. If you're looking for the dramatically distinct sites of the
Finger Lakes
, forget it. Vintners are happy with nice flat ground that gives even, uniform fruit. Then it's just a matter of spacing vines close enough for maximum flavor intensity without being so close as to shade adjacent rows.
Though the Island's plantings embrace 28 varieties, the recognized champ is Merlot. Merlot claims 40 percent of total acreage, and only three of the island's 48 wineries do not produce the varietal. Cabernet Sauvignon often fails to ripen here, and Cabernet Franc is unforgiving of the slightest misstep in either vineyard or winery. The remarkable 2007 vintage will be the one to watch, for a good look at the best that can be done with these other varietals.
In contrast to these, Merlot consistently produces tasty offerings, even in cool years when the wines drink well young, and somehow consistently avoid the grainy, vegetal crudeness of Bordeaux's poor vintages. Merlot is either great or just good here, and that's proved a winning formula. I found the consistent delicacy and elegance a very refreshing respite from our California amped-up offerings.
Vintage Variation
Since season length is the Island's big advantage, it pays to know your vintages. Unlike Bordeaux, however, heat summation is more important than rain. "We always have rain," explains Hearn. "It's a given. But our sandy soils shed it extremely well. What we need is a long hot season, and particularly to have fair weather after heavy fall rains to dry things out."
It pays to know your vintages, of which there are really three categories. For collectible reserve wines, the warmer, the better. Pelligrini's 1995 is still a dense, angular wine which may reach its peak in another decade. For soft, quaffable wines to enhance tonight's dinner without dominating the table conversation, cool years from Long Island often provide good values. And the most interesting wines in youth come from average years, neither warm nor cool, which tend to show their exotic herbs and spices and develop in five years or so into excellent alternat

READER FEEDBACK: To post your comments on this story, click here
Print this article  |  Email this article  |  More about Long Island  |  More from Clark Smith