New York's Riesling Paradise
Let's face it. Without New York, there would be no point in a North American discussion of Riesling's alluring multiplicity. There's little question that in the western hemisphere today, New York Riesling reigns supreme.
by Clark Smith
April 6, 2009
---

The Empire State is blessed
with a unique set of advantages which position it as America's Riesling capital. Our second largest wine-producing state is home to nine viticultural areas, offering up as diverse a menu of Riesling styles as any consumer could wish.
Riesling at its best is the classiest of the aromatic varietals, possessing a depth of flavors and a multidimensionality of expression which render Muscat, Gewürztraminer and the rest of the family clumsy by comparison. But you can't just plant it any-old-where. To sing like the angels,
Riesling
requires gobs of sunlight and a long growing season which is cool but not cold.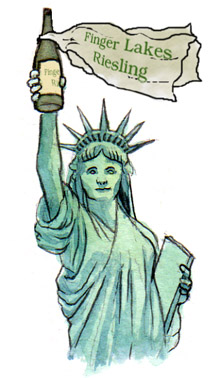 Uh-oh. Turns out that leaves out almost everywhere. Positioned between the 41st and 46th parallels, New York is entirely north of California. It receives almost 2 hours more a day of summer sunlight than the Napa Valley. Okay, but so does South Dakota. Across most of the U.S., pitiless winters simply impale any European varietal planting at these latitudes. End of game. You lose.
High latitude helps and hurts. It's a tough combination, but hey, it could be worse. If you're seeking proof that God loves us, simply consider that Riesling is the most winter tolerant of all
vinifera
. That's what Dr. Constantine Frank clued into in 1962 in south
Lake Keuka
, one of the diminutive Finger Lakes. Everybody thought he was nuts.
It's All About Water
What's special about New York is that its prime growing regions are arranged around large marine bodies which prevent winter injury: the Great Lakes, the Finger Lakes and the Atlantic Ocean. New York's lakes and seas also moderate summer temperatures, extend the growing season, and sometimes, in vineyards with perfect position and aspect, even supply reflective light to bolster their wines' fleshiness.
The grapevine can look at water, but not touch. Like other noble varietals, Riesling performs best when moderately challenged. The best soils dish out tough love, putting the vine on an allowance – enough moisture, but not too much.
The best wines come from well drained soils experiencing ideal seasonal rainfall patterns. From the shales of the Finger Lakes to Long Island's sandy North Fork, vineyard sites with terrific drainage are easy to find. Like Germany, New York gets enough rainfall that unirrigated vineyards are commonplace.
Fashion Models on the Runway
There's something a little obscene about dissecting submitted wines in a region prone to vintage variation. Our
Best-of-Appellation
™ panel looked primarily at 2007, a dry year prone to stress for the rocky terroirs and unusual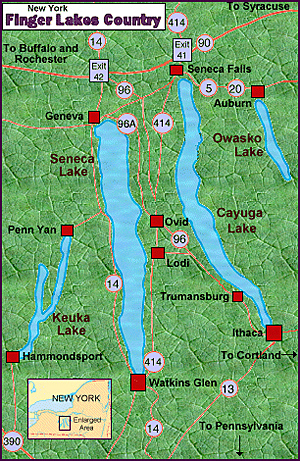 generosity for heavier soils. We were stoked anyway. But we are only beginning a process of defining regional character, and in wetter years, we expect to be confused. Stand by for that. For now, we granted BOA status to wines from four of the nine regions.
The overarching
Finger Lakes
appellation includes many different styles, united by the simple fact that they're all pretty damned good. Delving into the details, unique combinations of site, season and intention produce reliable magic, and to buy them mostly involves sorting out styles. Wineries have to choose whether to hitch their wagon to a new sub-AVA or to stick with the now-well-established Finger Lakes.
When the Finger Lakes were carved out of bedrock by glaciers moving south, the melting ice deposited towering gravel ridges at the base of
Seneca Lake
. The steep, well-drained slopes afford great drainage, early season warm-up, and fat flavors in soils of good aspect, and the Lake's broad reflective surface doubles the amount of light received by vines, extending daylight hours and season length and suppressing mildew. Tropical aromas, peaches, oily richness, and generous fruit emerge here above the omnipresent racy acidity.
Cayuga Lake
exemplifies the cooler, steelier districts of the Finger Lakes. Complex floral depth rather than broad fruity flavors typify the area, and driving minerality begs for halfshell oysters.
An exciting new region for New York lies along the south shore of
Lake Erie
. Here we found Anjou pear and lilac aromatics, and a finish of Asian spices adding complexity to the racy acidity. The
Cornell Vineyard Site Evaluation
study shows that this area has one of the longest growing seasons in the State, and may become home to very rich styles.
Glacial activity left behind a salt and pepper landscape of great soil variability – heavy honeoye loam often interspersed alongside aurora gravel or shale within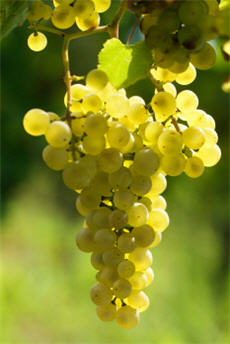 the same small site. Paradoxically, this mix, like a diversified stock portfolio, helps bring consistency to vineyards challenged with coping with huge swings in seasonal rainfall. In the wet years, the well drained light shales shed excess water and create the light water stress critical to flavor development. But in dry years, these soils apply too much stress, resulting in disruption of flavor development, while the holding capacity of the heavier loams hits the sweet spot of moderate stress.
Do regional terroirs determine style? Well, yes and no. We can, to be sure, generalize about the influence of terroir and the range of possibilities it makes available. We don't look to Lake Cayuga to ripen Cabernet Sauvignon, even if it would survive their winters, and few places in California have shown any promise for Riesling to rival the cool climes and long summer days of Germany and New York.
Style is the sum of terroir, seasonal variability, and human intention.
Our survey revealed that the body and richness for which the Lower Seneca "Banana Belt" is justly famous is not restricted to just that area. Keuka Lake Vineyard's cooler clime, shorter season and lower light intensity mark it for delicate, floral wines of crisp acidity. Yet directly adjacent to their main block, their Goldman Reserve takes advantage of a well exposed and well drained site and whatever hangtime nature affords - assisted by select cluster picking - to reliably produce a wine of Alsatian density.
Much debate has been devoted to the challenge of standard functional categories for consumers, and Riesling contains an added complication – residual sugar. No matter what your terroir gives you, a winemaker can always dial in the sweetness by arresting fermentation as desired, and this has a big impact on the wine's functionality.
As wineries start employing the
four sweetness categories

READER FEEDBACK: To post your comments on this story, click here
Print this article  |  Email this article  |  More about Finger Lakes  |  More from Clark Smith