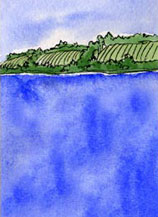 Seneca Lake is the deepest of the 11 Finger Lakes. With a maximum depth of 600 feet, this 35-mile-long body of water in the heart of New York wine country does not freeze. Instead, it acts as a heat storage unit, warming the growing region year round. This warming effect is largely responsible for the success of the area's flourishing wine industry. With more than 30 wineries, the Seneca Lake AVA sprawls across 204,600 acres, with 3,700 acres under vine. Best known for its Riesling, the area also produces a range of other wines that are earning international recognition. The region hosts the successful Seneca Lake Winery Trail, which encircles the entire lake. The eighth appellation in New York State, Seneca Lake is one of the most recent AVAs approved by the BATF in North America. Effective September 2, 2003, local wineries were permitted to display this designation on their labels. At the lake head is Geneva's agricultural experiment station, responsible for many of the commercially successful hybrid varieties grown in the eastern USA and Canada.

WAWGG Banquet Explores Washington State Terrior
By
Roger King
February 2, 2014
The multiple appellations of Washington will be tasted in a unique banquet dinner at this years Washington Association of Wine Grape Growers Annual Meeting and Trade Show. Nuances of that regional diversity have been paired with the meal being prepared by Chef Dan Carr.  [>] continue

Taking Focus on Appellation
By
Clark Smith
December 9, 2013

Whitehall Lane Winery, A 20 Year Story of Vineyards
By
Roger King
July 15, 2013

Embracing Virginia's Terroir
By
Richard Leahy
June 2, 2013

Shake Ridge Ranch - Gem of the Sierra
By
Roger King
May 16, 2013

Tannat, Vibrant Across the America's
By
Barbara Trigg
May 6, 2013

Welcome Middleburg Virginia AVA
By
Roger King
January 4, 2013

Humboldt County: Is Too Much Terroir Possible?
By
Clark Smith
October 14, 2012