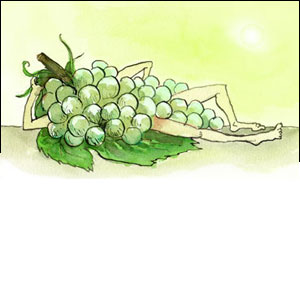 Delaware
You are a proud native American. Your spirit and work ethic are undeniable. An important part of America's viticultural history; lets hope you and other native Americans remain part of the fabric of the American wine industry despite the pressures from the Euro-myopic press.

Appellations Growing Delaware Grapes
Appellations producing the most Delaware wines:
Delaware

Delaware is a Native American hybrid grape of largely unknown parentage although it is believed to have some V. vinifera somewhere in its lineage. Of considerable historic and commercial interest, the variety has been in cultivation since the middle of the 19th century in Ohio. Today, this versatile grape still finds itself commercially valuable in the Northeast and Midwest where it is widely used in the production of everything from dry, to sweet (notably ice wine) and sparkling white wines of good quality, often with spicy aromas. The vine can be very productive when grafted onto phylloxera resistant rootstock and planted on fertile, well-drained soils, but its susceptibility to fungal diseases has limited its use in more humid regions, compared to similar vines.