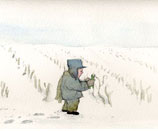 Minnesota presents some of the greatest cold-climate challenges of any wine-producing state. Vines must often be laid down and buried in dirt to keep them alive through the winter. But despite the labor and economic hardship involved, the number of dedicated growers is surprisingly high, with over 400 members in the Minnesota Grape Growers' Association. Though winter temperatures drop as low as -30 F, the climate has not deterred those like Elmer Swenson, the noted horticulturist and grape hybridizer. Through more than half a century of dedicated work, Swenson created commercially-successful, cold-climate varieties (e.g. Edelweiss and St. Croix). For two decades the University of Minnesota has furthered cultivar hybridizing and cold-climate viticultural research. The University's 1995 introduction of Frontenac, a hybrid red variety able to withstand the cold without burial, has spawned a whole new generation of optimists about Minnesota's wine future. This state actively funds viticulture and oenology programs at the University of Minnesota, banking on a thriving wine industry to boost its economy with increased tourism.

Taking Focus on Appellation
By
Clark Smith
December 9, 2013
Appellation America has entered its second decade on the web. Much has changed since the start, but the core focus remains characterizing the unique flavor profiles of North America's appellations and the natural influences and human cultural forces which influence them.   [>] continue

Whitehall Lane Winery, A 20 Year Story of Vineyards
By
Roger King
July 15, 2013

Embracing Virginia's Terroir
By
Richard Leahy
June 2, 2013

Shake Ridge Ranch - Gem of the Sierra
By
Roger King
May 16, 2013

Tannat, Vibrant Across the America's
By
Barbara Trigg
May 6, 2013

Welcome Middleburg Virginia AVA
By
Roger King
January 4, 2013

Discovering Joy of Marquette
By
Barbara Trigg
November 9, 2012

Humboldt County: Is Too Much Terroir Possible?
By
Clark Smith
October 14, 2012