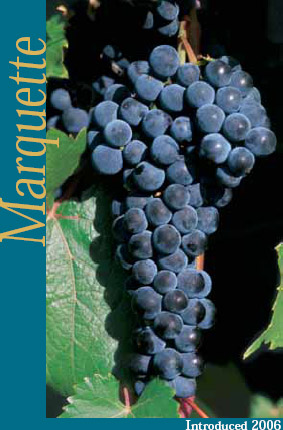 Marquette
Marquette exhibits relative high levels of acid for a Red, but can easily be managed by solid winemaking practices. Finished wines exhibit cherry and black currant flavors and aromas typical of many hybrids, with expanded complexity of blackberries, pepper, plum, tobacco, leather, and spice notes.

Appellations Growing Marquette Grapes
Appellations producing the most Marquette wines:
With a diverse parentage of hybrids, yet a lineage that also includes Pinot Noir, Marquette is a worthy new grape that promises cold hardiness along with outstanding quality wine. It's origins can be trased back to 1989 when MN 1094 was crossed with French hybrid Revat 262. Disease resistence to forms of mildew and rot is very worthy, especially in the Midwestern and North Eastern growing areas of North America. Berry and cluster sizes tend to run to the smaller range, which would be benefical to gaining favorable juice to skin ratio when entering the winery. An early ripening grape, Marquette is oriented to early bud break and ripens early mid season (September in the Midwest), which is positive to the changes in fall weather that can rapidly occur in these areas. Sugar accumulation is impressive with brix averaging high 25 range.