---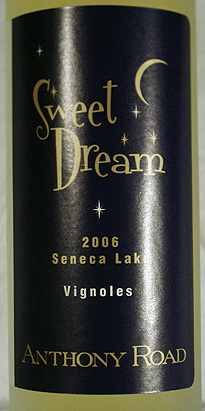 Anthony Road Wine Company
2006 Sweet Dream
(Seneca Lake)
Anthony Road Wine Company was one of the first farm wineries in New York to recognize what many others have since, that white French hybrid grapes such as Vignoles and Vidal are well-suited to make rich, balanced desert wines. Vignoles generates high natural sugars and acids well suited for dessert wines. Its thick skin invites and holds Botrytis, the "noble rot" responsible for the world's best dessert wines.

The winery on the west side of Seneca Lake has been making several styles of Vignoles since it was founded in the 1980s, but took its dessert wines to a new level with German-trained winemaker Johannes Reinhardt. In 2006, the winery revealed its latest incarnation of Vignoles, an entry-level dessert wine called Sweet Dream. Reinhardt, troubled by U.S. wines he saw bearing "late harvest" on their labels, eschewed the moniker on his wine. "I don't want to be associated with those who consider grapes harvested at 22° Brix to be late harvest," he says.

He'll only make dessert wines on years with Botrytis, cursed in many vineyards, but invited on some white grapes destined for dessert wine. His levels of dessert wines, extending up to a trockenbeerenauslese, often require several passes through the vineyard, harvesting first clean fruit, then Botrytis fruit and even then, cluster and berry sorting. Clean fruit goes into a standard table Vignoles, partially Botrytisized fruit into a Sweet Dream, and in rare years, a traditionally-produced trockenbeerenauslese.

For Sweet Dreams, Reinhart requires at least 50 percent Botrytis on the clusters and Brix starting at between 27 and 30 degrees. Because of the uneven effect of Botrytis, Reinhart must do small test crush and fermentation to ascertain sugar levels. Too many dessert wines are so sweet and effusive that they are "clumsy," in Reinhardt's view, with such seductive smells and outgoing fruit that people overlook the flavors, cutting slack to wines that lack mouthfeel and finish.

The first approach Sweet Dream yields smells of white chocolate, lemon and white pepper. The wine is weighty and slightly honeyed on the palate with flavors of limoncello and poached pear. Compared to many dessert wines, Sweet Dream is throttled back, with 7 percent residual sugar and 11.8 percent alcohol. Yet, the wine is balanced. Unlike many overwrought dessert wines, Sweet Dream isn't oppressive on the palate.
Reviewed November 24, 2008 by David Falchek.
Other reviewed wines from Anthony Road Wine Company
---
Winery: Anthony Road Wine Company
Vintage: 2006
Wine: Sweet Dream
Appellation: Seneca Lake
Grape: Vignoles / Ravat
Price: 375ml $17.00



David Falchek

David Falchek writes a weekly wine column for several newspapers in Pennsylvania, including the Scranton Times-Tribune. He also contributes regularly to trade publications such as Vineyard & Winery Management and Beverage Media. David has judged regional, national, and international wine competitions where he likes to think he lauds outstanding Seyval or Foch just as readily as Cabernet or Riesling.