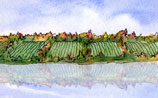 Cayuga was the first individual lake of the Finger Lakes to earn its own AVA stripes back in 1988. The region's wineries were also the first in the state to collaborate into a mutually beneficial promotional organization - the Cayuga Wine Trail. Forty miles long, Cayuga is the longest of New York State's Finger Lakes. Vineyards on mainly shale soils are concentrated on the western side of this deep glacial lake. With their eastern exposures, vineyards bathe in early morning sunshine, helping to ripen their grapes in this northern, cool-climate region. Vineyard elevations never exceed 800 feet above the lake's surface and steep slopes run down to its shore, facilitating air patterns that create a unique microclimate in autumn. At that time, cold air drains off the vineyards onto the lake, where it warms and rises, creating the vacuum which draws more cold air from the land. This continuous air flow prevents cold pockets from settling and forming frost on the vineyards, extending the growing season to 165-170 days on average, which is three weeks longer than many other areas in the Finger Lakes region. The popular Cayuga grape variety was developed locally at Cornell University and today is an important part of the varietal mix of this and many other cold-climate regions. Perhaps the marquee wines of the Cayuga appellation are its excellent Rieslings, but increasingly, Cabernet Franc is proving well suited to the local conditions.

Taking Focus on Appellation
By
Clark Smith
December 9, 2013
Appellation America has entered its second decade on the web. Much has changed since the start, but the core focus remains characterizing the unique flavor profiles of North America's appellations and the natural influences and human cultural forces which influence them.   [>] continue

King Ferry Winery:
The Sweet Spot for Dry Wines
By
Eleanor & Ray Heald
November 11, 2008
[>] see all Cayuga Lake features (1)

Whitehall Lane Winery, A 20 Year Story of Vineyards
By
Roger King
July 15, 2013

Embracing Virginia's Terroir
By
Richard Leahy
June 2, 2013

Shake Ridge Ranch - Gem of the Sierra
By
Roger King
May 16, 2013

Tannat, Vibrant Across the America's
By
Barbara Trigg
May 6, 2013

Welcome Middleburg Virginia AVA
By
Roger King
January 4, 2013

Humboldt County: Is Too Much Terroir Possible?
By
Clark Smith
October 14, 2012