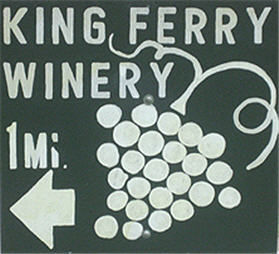 King Ferry Winery:
The Sweet Spot for Dry Wines
Although there may be a lingering negative perception that New York wines are sweet, producers in the Finger Lakes have more than proved this false. Among them is King Ferry Winery, whose program for success is anything but cookie cutter.
by Eleanor & Ray Heald
November 11, 2008
---

ollowing on the heels
of Upstate New York's
Finger Lakes
AVA approval in 1987, the
Cayuga Lake
AVA was established one year later. Eleven glacial lakes are the dominant feature of the region. Although Canandaigua, Keuka, Seneca and Cayuga Lakes are surrounded by the majority of wine grape plantings, only Cayuga and Seneca Lakes have their own AVA, entirely contained within the 11,000-plus acres of vineyards in the Finger Lakes AVA, New York State's largest winegrowing region.
Cayuga Lake's enormous depth moderates the microclimate. During winter, stored heat is released from the Lake, which does not freeze. Because the Lake shields against early season bud damage and bud mortality for the most cold-sensitive
vinifera
varieties, proximity of vineyards to the Lake is more important than either soil composition or exposure.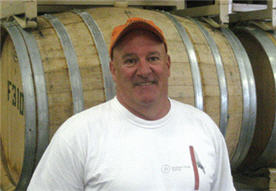 Additionally, during late summer and early autumn the sun's rays off the Lake surface extend the growing season, insuring appropriate grape maturities.
Most vineyards in the Cayuga Lake AVA are planted on the Lake's western hillsides, rising steadily from the Lake. Not so with
King Ferry Winery
, which has 27 acres of estate vineyards on the east side. Peter Saltonstall, owner of King Ferry with his wife Tacie and also chairperson of the New York Grape and Wine Foundation Board of Directors, finds no appreciable difference in grape growing conditions or fruit from west to east side. "Early in the region's history," explains Saltonstall, "most of the land on Cayuga Lake's eastern side was settled by large dairy farmers. When it was discovered that the area was most suitable for grape growing, the available land was on the western side."
From Grain To Grapes
American history buffs will recognize the Saltonstall family name. Leverett Saltonstall, Peter's grandfather, was a well-known Massachusetts U.S. Senator. Peter's father wanted no part of a life in politics and became an agronomy professor at Cornell University. Not keen on the classroom aspects of his career, he purchased 700 acres of land on Cayuga Lake's eastern flank to raise beef cattle and a variety of grains for seeds, which he sold to local farmers.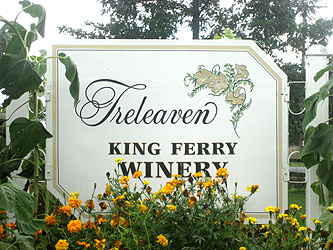 When Peter's father died, all but a 27-acre parcel, named Treleaven Farm (after the original owners), was kept in the Saltonstall family. Today, this parcel is home for the King Ferry estate vineyard (named after the town in which it's located).
While growing up, Peter, who turns 55 this year, worked on the family farm, tending both the animals and foundation stock seeds. Going into the wine business was not on his radar screen until he spent time with his brother Tim in 1975, developing Napa Valley vineyards. He returned to the Finger Lakes, and for about a decade, was in home construction until the New York wine industry began to heat up. He gave it serious consideration, and not just growing grapes, but also taking on a winery startup.
In 1984, first plantings, including Chardonnay, Riesling, Gewurztraminer and Pinot Noir, were made in the Treleaven parcel, which contains six distinct soil types. First vintage of less than 1,000 cases was released in 1989.
Between planting and a first release, however, Saltonstall sold grapes to Herman Wiemer Winery. "We quickly realized," Saltonstall admits, "that we needed a plan. We hired winemaker Eric Fry as consultant. He held my hand in the early years and we continue to have him taste through our wines each winter."
In addition to superior fruit sources, the Saltonstall-Fry connection may be the single best cure for early admitted naiveté. Fry began his career as a microbiologist at Napa Valley's Robert Mondavi Winery and also worked in wineries in France and Australia. Upon return, he became winemaker at Dr. Konstantin Frank's Vinifera Wine Cellars and has been the winemaker at Lenz Winery (on New York's Long Island) for nearly two decades. "We were naïve when we started," Saltonstall admits. Yet, the winery has grown ten-fold to a 10,000-case annual production from the 27-acre estate parcel, yielding an average of 3.5 tons per acre, plus the equivalent in purchased grapes, including Merlot from Long Island's North Fork. As King Ferry experienced success, the 1984 inaugural planting was succeeded by others in 1988, 1993 and 2004.
Discovering Locavores
Saltonstall believes that if the New York metro wine market ever kicks in and the locavore movement sees an up tick, he'll definitely need to plant more Riesling. "Because," Saltonstall explains, "there's still a negative perception of New York wines that they're all sweet. Younger consumers are developing a greater interest in wines from their state. When we can get this expanded through marketing efforts, local will be the new gold." Until that day dawns, King Ferry Winery's production will remain at an annual 10,000 cases.
An involved advocate in direct shipping, Saltonstall indicates that since the Granholm v. Heald decision in 2005, he has been direct shipping six percent of his production and "this has made a difference in the bottom line."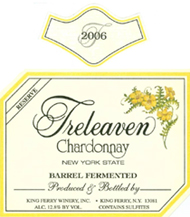 Over the years, Saltonstall has increased Riesling acreage, the signature variety for the Finger Lakes region. "Regardless of the weather during the growing season," he affirms, "Riesling is consistent each year. We can grow it and make it with our eyes closed. I can't say that for all the varieties grown in the region. Yet, I love working with our barrel-fermented Chardonnay because there's more winemaking involved."
He's facing the challenges of growing and producing Pinot Noir and indicates "we're learning not to over-crop Cabernet Franc. Yet, our principal challenge is weather variability. Because the region has had a string of dry years, more vineyards have installed irrigation. Vintage 2007 is a good example. It was very dry, but because we have irrigation, we were not as affected as growers without it. The reds were dead ripe and that was fun. However, dry weather compressed the season and whites and reds reached ripeness at the same time."
What's In A Name
There are myriad names in this posting, but let's look at
Treleaven
and how it fits as the top-tier brand of King Ferry Winery, one of 100 wineries in the Finger Lakes. Under the assumption that "Tre" relates to three and "leaven" is a substance, like yeast, that causes dough to rise, we can discover a three-pronged formula for the success of King Ferry and it's top-flight wines.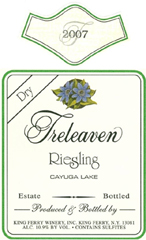 First