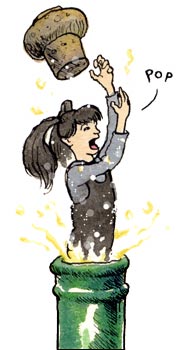 Pinot Meunier

It is a shame you rarely get the recognition
that your cousin Pinot Noir or Miss Chardonnay
receive. At all the fashionable celebrations
those two stars seem to be the toast of the
evening, while you, poor little Cinderalla, are
left in the fizz to do most of the work. Perhaps
it is a perceived lack of sophistication. No matter,
your global family understands what an important
part of the mix you are. Your youthful effervescence
and sparkling personality are irrepressible. You're
our favorite pop-up girl!

Appellations Growing Pinot Meunier Grapes
Appellations producing the most Pinot Meunier wines:
Pinot Meunier Grape Details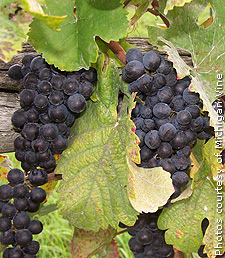 Pinot Meunier (aka. Auvergnat Gris, Black Riesling, Blance Feuille, Blaue Positschtraube, Farineux Noir, Miller's Burgundy, Morillon Tacone, Mullerrebe)

Pinot Meunier's heritage is traced to northern France, where it is particularly important in France's Champagne region. Here, it is the most planted variety, with acreage roughly equivalent to the acreages of Chardonnay and Pinot Noir combined. It offers youthful fruit character and tart acidity to the traditional blend. However, wines which are predominantly Pinot Meunier tend to be less age worthy. Pinot Meunier is well suited to cool climates, as it buds later than Chardonnay and Pinot Noir. This makes it less susceptible than its more noble partners to frost. It also ripens earlier than Pinot Noir. In North America, Pinot Meunier can be found in New York State's Finger Lakes region, where it is known as Black Riesling. More notably however, California growers in regions such as Caneros and the Anderson Valley, wishing to produce authentic champagne-style wines, introduced Meunier to the vineyards in the 1980s. Today, most all of the state's 300 acres of PM reside in the Carneros area. Some work is being done with this vareital as a still wine, most prominently in Oregon, Washington State, Germany, and France's Loire Valley. When produced as a still wine, the result is a product that is a light red to rosé in color, with crisp acidity and some smoky notes. Although these wines are not designed to age, they are very enjoyable in their youth.

Lake Michigan Shore
Round Barn Winery's
World is Not Flat
By
Eleanor & Ray Heald

St. Helena ~ Napa Valley
August Briggs: It's both the winemaker and the vineyard
By
Alan Goldfarb

Nova Scotia
A Bridge Not Too Far
By
Craig Pinhey

Carneros ~ Los Carneros
Carneros AVA -- The Sweet Spot
for Pinot Noir and Chardonnay
By
Alan Goldfarb