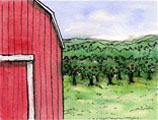 Noted for very fertile soils, the Fraser Valley is the largest agricultural region in British Columbia, Canada's westernmost province. Just east of Vancouver, the DVA has a longer growing season than the richly productive Okanagan Valley, although it is cooler. Given these generally promising conditions, it is curious that the area presently hosts so few grape wineries (along with several fruit wineries), with barely 20 hectares under vine. Perhaps the high fertility of the Fraser Valley doesn't offer the "stress levels" commonly associated with premium winegrowing. Still, the Fraser Valley does have certain microclimates suitable to varieties like Bacchus, Madeleine Sylvaner, Chardonnay and Pinot Noir. Fraser Valley is home to the province's most southerly winery, Domaine de Chaberton.

Taking Focus on Appellation
By
Clark Smith
December 9, 2013
Appellation America has entered its second decade on the web. Much has changed since the start, but the core focus remains characterizing the unique flavor profiles of North America's appellations and the natural influences and human cultural forces which influence them.   [>] continue

Embracing Virginia's Terroir
By
Richard Leahy
June 2, 2013

Shake Ridge Ranch - Gem of the Sierra
By
Roger King
May 16, 2013

Tannat, Vibrant Across the America's
By
Barbara Trigg
May 6, 2013

Welcome Middleburg Virginia AVA
By
Roger King
January 4, 2013

Humboldt County: Is Too Much Terroir Possible?
By
Clark Smith
October 14, 2012

Historic Buena Vista Winery Restored
By
Barbara Trigg
September 18, 2012

Three Days in Humboldt County and Willow Creek
By
Barbara Trigg
August 22, 2012