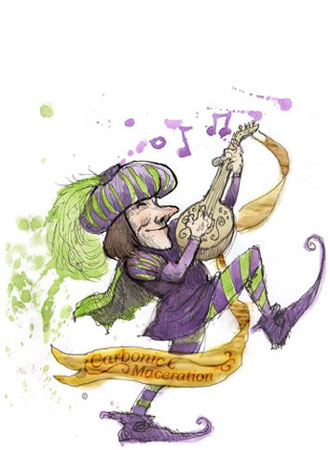 Gamay Noir
Many a place, they plant Gamay.
Especially in France at Beaujolais.
Where they have a fascination,
with carbonic maceration,
and wine that's softer than Cabernet.

They make a wine, they call Nouveau.
It's purple and pink like lilies of Van Gogh.
On the third Thursday of November,
they merrily go on a bender,
until passing out on the steps of the chateau.

Gamay's a wine to pair with every meal.
With chicken or fish, or a nice piece of veal.
Some say it's oh so fruity,
and it's sure a thing of beauty.
But drink it when young for greatest appeal.

France's Gamay has crossed the sea.
And it's as good over here, I guarantee.
It's eagerly drunk round the nation.
Oh that whole grape fermentation.
Give me Gamay for lunch, dinner, and afternoon tea!

Appellations Growing Gamay Noir Grapes
Appellations producing the most Gamay Noir wines: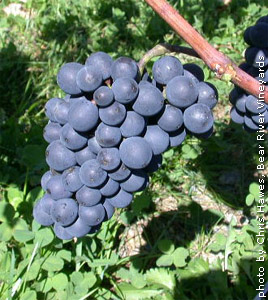 Gamay Noir (aka. Gamay, Gamay Noir à Jus Blanc)

Gamay is an ancient variety that has long been denied a place in the court of noble varieties like Cabernet Sauvignon and Pinot Noir. In North America the vine is rarely treated with esteem and can only be found intermittently across the continent. The exception is Ontario, where Gamay thrives in the Niagara Peninsula and Pelee Island DVAs. The best Ontario Gamays, often labeled as 'Reserve', have a structure similar to Cru Beaujolais. In France Gamay has long been under appreciated. Even in Burgundy where it originates, Gamy has historically been recognized as being superior in quantity, but much lacking in quality, relative to the region's other red grape, the noble Pinot Noir. In fact, as far back as the fourteenth century, the Duke of Burgundy, Philippe le Hardi (Philip the Bold), in his ordinance of 1395 banished the "disloyal plant" from Cote d'Or vineyards. More recently, with the introduction of AOC regulations in 1935, Gamay's 'legal' territory in its Burgundy homeland was restricted, confining the grape to the region's southern most districts of Macon and Beaujolais. The lack of respect afforded to Gamay is not surprising, considering the character of its wine. In the Beaujolais region Gamay most often produces fruity unpretentious wines intended for early consumption. This is exacerbated by the Beaujolais tendency to encourage its most fruit forward disposition with a style of fermentation known as Carbonic Maceration. Apart from a scattering in the central Loire and in the Jura, Gamay in France is almost entirely contained within its Beaujolais homeland. However, the variety still ranks in the top ten most planted red varieties in France. Not withstanding, Gamay does enjoy a vast international market, and it is surprising that the grape has not migrated to more vineyards abroad. However, its traditional fermentation method, carbonic maceration, has been adopted by wine regions far and wide, using a range of local grapes to achieve wines with similarly intense, youthful berry fruitiness, in a soft and easy style. Given a more standard red wine fermentation, Gamay can produce more serious wines. The best examples come from ten small 'Cru' villages in the Beaujolais hills, particularly those from the commune of Moulin-a-Vent. The wines made here often can age in the medium term, gaining mature Pinot Noir-like qualities.