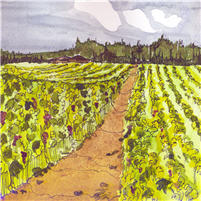 The Eola-Amity Hills (EAH) winegrowing region is composed of a string of hills located nearly in the center of the Willamette Valley of Oregon. These hills are coated with soils formed from ancient marine sediments, derived from massive lava flows, or deposited by post-glacial floods of biblical proportions, and the hills are warmed by Oregon's long, dry summer growing season. The hills are now home to numerous vineyards and wineries producing ultra-premium wine grapes and wines that capture the unique terroirs of the EAH region. The steady, predictable afternoon marine breezes that come into the Willamette Valley from the Pacific Ocean through the Van Duzer Pass, a low point in Oregon's Coast Range, flow directly toward the EAH. Whether a vineyard site is on the exposed western aspect of the hills or on the more protected easterly slopes, the fruit will be cooled quickly from the day's heat. This results in preservation of the grape's natural acidity and produces a brighter, fresher wine. The soils of the Eola-Amity AVA are generally shallower than those of some other AVAs. In the upper hills, these are predominantly basaltic clay/loams called Jory, Nekia, and Gelderman, among others, while lower elevations contain sedimentary Steiwer, Chehulpum, and Helmick types. It is not unusual for a single vineyard to have multiple soil types, depending on its altitude, and thus create from a single Pinot noir clone interestingly different wine grapes. The Eola-Amity Hills AVA, one of the six AVA's in Willamette Valley, became official in August 2006.

WAWGG Banquet Explores Washington State Terrior
By
Roger King
February 2, 2014
The multiple appellations of Washington will be tasted in a unique banquet dinner at this years Washington Association of Wine Grape Growers Annual Meeting and Trade Show. Nuances of that regional diversity have been paired with the meal being prepared by Chef Dan Carr.  [>] continue

Taking Focus on Appellation
By
Clark Smith
December 9, 2013

Whitehall Lane Winery, A 20 Year Story of Vineyards
By
Roger King
July 15, 2013

Embracing Virginia's Terroir
By
Richard Leahy
June 2, 2013

Shake Ridge Ranch - Gem of the Sierra
By
Roger King
May 16, 2013

Tannat, Vibrant Across the America's
By
Barbara Trigg
May 6, 2013

Welcome Middleburg Virginia AVA
By
Roger King
January 4, 2013

Humboldt County: Is Too Much Terroir Possible?
By
Clark Smith
October 14, 2012