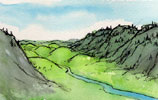 Polk County is the geographic center of the Willamette Valley AVA and features the Eola Hills, one of several proposed new appellations for Oregon. The Eola Hills are a north-south ridge, with most of the vineyards located on the eastern side of the ridge. In this section of the County, grapes benefit from southeastern exposures, a mix of weathered basalt soil, and protection from the direct effect of Pacific winds. The bravest of the County's vineyards are in the Van Duzer corridor, which cuts through the coastal mountain range. Here, on hillsides with well-draining soil, vineyards have a slightly cooler climate than adjacent areas in Polk County. In summer, they also register significantly lower minimum temperatures than vineyards on Willamette Valley's northern edge, forcing vineyards to extend the growing season.The rest of the vineyards are scattered along the eastern foothills of the Coast Range. Polk County does not have as many vineyards or wineries as neighboring Yamhill County, but its unique terroir will be significant in the ongoing redefinition of the Willamette Valley.

WAWGG Banquet Explores Washington State Terrior
By
Roger King
February 2, 2014
The multiple appellations of Washington will be tasted in a unique banquet dinner at this years Washington Association of Wine Grape Growers Annual Meeting and Trade Show. Nuances of that regional diversity have been paired with the meal being prepared by Chef Dan Carr.  [>] continue

Taking Focus on Appellation
By
Clark Smith
December 9, 2013

Whitehall Lane Winery, A 20 Year Story of Vineyards
By
Roger King
July 15, 2013

Embracing Virginia's Terroir
By
Richard Leahy
June 2, 2013

Shake Ridge Ranch - Gem of the Sierra
By
Roger King
May 16, 2013

Tannat, Vibrant Across the America's
By
Barbara Trigg
May 6, 2013

Welcome Middleburg Virginia AVA
By
Roger King
January 4, 2013

Humboldt County: Is Too Much Terroir Possible?
By
Clark Smith
October 14, 2012