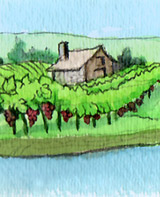 At the beginning of 2001, Prince Edward County in south eastern Ontario didn't have a single winery open. However, in June of that year, Waupoos Estate opened its doors to the public and since, almost a dozen more have followed suit, making this small 'island' appellation the fastest growing wine region in Canada.

Excellent Burgundy-like limestone soils and a marginal climate moderated by Lake Ontario are key factors in this rapid transition to a successful viticultural area, but just as important is that 'The County' is astutely aware of the economic benefits that come with becoming a thriving wine region. A major part of the municipality's economic development mandate is to encourage and facilitate vineyard development and winery investment. The County's website even provides a free downloadable viticultural guide to investors and growers offering as much information as is possible on which to base their land purchase, planting, and growing decisions. Already, this emerging wine region has attracted an impressive amount of investment from a broad range of people sharing a pioneering spirit and desire to make excellent wine in challenging conditions. And excellent wines are indeed coming out of PEC vineyards, with initial results suggesting that this region, despite some of its climatic challenges may well offer some of the best overall conditions for Pinot Noir and Chardonnay in Canada.

Bi-State Upper Hiwassee Highlands an AVA
By
Roger King
August 6, 2014
In the southern Blue Ridge Mountains of North Carolina and Georgia vineyards are small and few, yet the establishment of the Upper Hiwassee Highlands could bring much more.  [>] continue

Prince Edward County Wineries Achieve Finesse and Flavor
with Low Alcohol Wines
By
Craig Pinhey
July 25, 2008

Prince Edward County, Full steam ahead.
By
Tony Aspler
June 17, 2005
[>] see all Prince Edward County features (3)

Remote Manton Valley New California AVA
By
Roger King
July 31, 2014

WAWGG Banquet Explores Washington State Terrior
By
Roger King
February 2, 2014

Taking Focus on Appellation
By
Clark Smith
December 9, 2013

Embracing Virginia's Terroir
By
Richard Leahy
June 2, 2013