---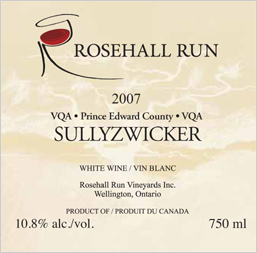 Rosehall Run Vineyards
2007 Sullyzwicker
(Prince Edward County)
Dan Sullivan already has a great reputation as one of Canada's best award-winning amateur winemakers, and his excellent work at Rosehall Run is bringing him similar professional accolades. Although Rosehall Run has made their name for Chardonnay, Pinot Noir and Cabernet Franc, their best value wines are their blends.

Sullyzwicker is Dan's lighthearted take on Alsace's Edelzwicker – a blend of aromatic (and not so aromatic – more filler) varieties. The wine's name is a melding of Sullivan's surname with his wife's – Zwicker. This delicate, attractively floral wine is made from a blend of 59% Ehrenfelser (from PEC), 28% Riesling (mixed – from Niagara and PEC), and 13% Muscat Ottonel, and has plenty of citrus fruit alongside apple and pear.

Light on the palate, and low in alcohol, the wine has a very fruity demeanor, but is still blessed with the County signatures of minerality and refreshing acidity on the palate. Slightly off-dry, it makes for a nice "cocktail" wine, but is also a perfect match for salads with citrus dressings, or a foil for spicy dishes.
Reviewed July 25, 2008 by Craig Pinhey.
---
Winery: Rosehall Run Vineyards
Vintage: 2007
Wine: Sullyzwicker
Appellation: Prince Edward County
Grapes: Ehrenfelser (59%), Riesling (28%), Muscat Ottonel (13%)
Price: 750ml $16.95



Craig Pinhey

Craig Pinhey is a professionally certified Sommelier, educator, wine judge, and wine writer. He is on the tasting panel for Wine Access, Canada's most respected wine magazine, and is the provincial wine columnist for the New Brunswick Telegraph Journal. Craig appears weekly on CBC Radio, and is regular beverage columnist for Halifax's The Coast, East Coast Living, Progress Magazine, and [here]: New Brunswick's Urban Voice. He prefers wines with mineral and earthy notes, distinct varietal fruit and regional character, and moderate alcohol so he can drink more of it.