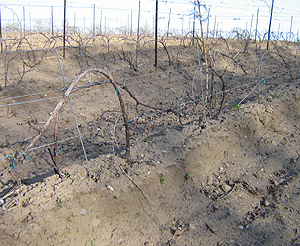 Prince Edward County Wineries Achieve Finesse and Flavor
with Low Alcohol Wines



Just northeast of Toronto, discover a unique Canadian Designated Viticultural Area (DVA) which is producing a surprisingly wide array of varietals whose distinctive minerality is derived from the region's limestone soils. Some think of Prince Edward County as 'the Burgundy of Canada'.
by Craig Pinhey
July 25, 2008
---

any of the world's winemakers
, and especially their marketers and sales/PR people, talk about terroir rather loosely. They make claims that you can "taste the soil" in the wine, or claim on one hand that the land makes the wine, and yet they use all kinds of tricks and tools of the trade to manipulate the wine to a consumer and critic-friendly taste profile.
There is nothing wrong with using winemaking skills to make a balanced saleable wine: just don't pretend that you are a terroirist when you clearly are not.
The winemakers of
Prince Edward County
(PEC), Ontario's new DVA (Designated Viticultural Area), seem to be true "terroirists" - at least most of them. They most certainly get intimate with the soil on a regular basis, having to hill up and then unearth the buried vines to help them survive each winter, resulting in perhaps the most unattractive vineyards in Ontario – not that this should have any influence on one's opinion of their wines. It might even be a curiosity that attracts more wine tourism: "Just what are they doing there?"
It is refreshing to travel through the region tasting at the wineries (which is relatively easy to do since there are fewer than 20), finding time and time again a consistent signature in many of the wines. Minerality, whatever its true technical origin, is no myth here, showing up in everything from Chardonnay to Pinot Noir, and especially Pinot Gris, a grape that seems to have found a distinct home here. PEC wines - white, red, rosés and sparklers – are defined by a low alcohol, elegant, occasionally herbal (but not unripe), fresh, food-friendly style.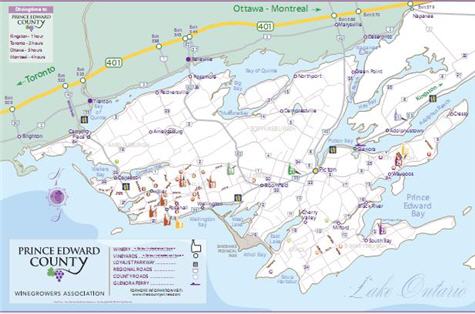 Located just a couple hours drive east from Toronto, there is a real farm winery feel to many of the producers here, from the gorgeous, huge, refurbished horse barn at The Grange of Prince Edward, the iconic barn at Closson Chase, to the humbler, historic barns at By Chadsey's Cairns. Another farm aspect is the focus on soil. Their calcium limestone base is now well known to Canadian wine enthusiasts, at least those who read wine magazines, and this is the main reason the region is so hyped for its Pinot Noir and Chardonnay. Some claim it is Canada's Burgundy.
Even the 'official' winegrower's association map (see above) provided to tourists is chauvinistic about soil, with the technical soil description being the first piece of information after the winery name: Norman Hardie Winery – Hillier Clay Loam, Huff Estates Winery – South Bay Clay Loam, By Chasey's Cairns – Brighton Gravelly Sand, Waupoos Estate Winery – Elmbrook Clay Loam.
Huff Estates
is a great place to start, partly because they have a very comfortable inn on-site. Located at 2274 County Road 1, although they get grapes from elsewhere besides the surrounding vineyards, Huff's Winemaker Frederic Picard, a transplanted Frenchman,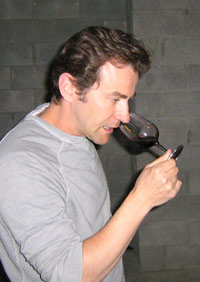 makes a wide range of wines, including some that are very French in style, particularly his Chardonnay, rosé and Bordeaux red varieties. Moderate alcohol is natural here, and at other PEC producers, owing to relatively low Brix levels at harvest.
In the relatively warm 2007, Picard's Pinot Gris came in at 21° Brix, and was vinified to 12.5% alcohol, yet a barrel sample shows very fruity, almost tropical notes. In this climate, steady slow ripening gives sugar/acid balance at harvest. Some of the 2007 is in barrels, both new and old oak, as Picard is considering a richer version for this vintage.
His 2006 Chardonnays are very Burgundian in nose and palate, low in alcohol at 12.5%, and blessed with long finishes, especially the South Bay Chardonnay ($29.95), which won a Bronze at the All Canadian Wine Championships (ACWC). Their South Bay vineyard is located on the peninsula that juts out into Lake Ontario, about 25 km south east of the winery. The 2006 Merlot ($24.95) from South Bay is a claret-styled wine, with pleasant leafy notes and light oaking.
A barrel tasting of Huff wines confirms why Picard is excited about the 2007 vintage, with bigger than usual wines expected across the range of grape varieties.
Waupoos Estates Winery
is one of the PEC pioneers, along with Long Dog (see below). A mix of grape varieties was planted in 1993 along the North shore of Prince Edward Bay, due east of Picton, some of which are somewhat unusual here in Waupoos, including Geisenheim, De Chaunac, Seyval Blanc, St. Laurent, and Vidal (at least as table wine). They are doing a commendable job of producing serviceable wines for very reasonable prices, including, for example, a lovely white blend called Honeysuckle for $12.95. They recently changed the blend, replacing Geisenheim with Chardonnay to make the province's VQA grape variety requirements, so that they could get into restaurants with the wine. This did not necessarily improve the wine, but rules are rules, no matter how draconian.
Waupoos recently scored big with a Gold at the ACWC for their 2006 Vidal ($9.95), and a Bronze at the Ontario Wine Awards (OWA) for their 2006 Baco Noir ($15.95).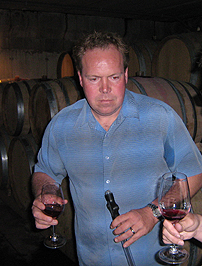 Norman Hardie Winery
is a leader in PEC because its namesake is seen by some as the face of the region, a champion of the region's terroir and wines, and a friend of the other wineries, new and old, even making wine for some.
Norman Hardie wines are poster children for the region, showcasing minerality, crisp acidity and finesse. Hardie's 2007 Melon De Bourgogne ($19) is a pleasant surprise, with pink grapefruit, wet rocks, and a smooth finish, at only 11.5% alcohol. The 2007 Pinot Gris ($25) is round and full with ample length. The 2006 Chardonnays, unoaked ($25) and French oaked ($35) are very French in style, with Chablis minerality right up front, but it is the Pinot Noir that everyone is buzzing about, for good reason.
Located in the heart of Hillier, a winery-dotted finger of land pushing west into the lake just north of Sandbanks Provincial Park, Hardie's winery takes advantage of the rich limestone soils. Hardie feels the limestone is largely responsible for the pretty, perfumed violets in the nose of his 2006 County Pinot Noir ($35) - made from only 4 year old vines. The wine is pale cherry red, but is certainly not pale in flavor or character, with a distinct "old worldly-ness", sour cher