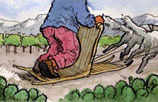 Known more for its western frontier history of ranching and gold mining, the Similkameen Valley has only four wineries thus far. This cattle country DVA runs 70 miles westward through the Coastal Mountain Range, from Osoyoos in the southern Okanagan Valley to that valley's western reaches. Nestled on the banks of the Similkameen River lies St. Laszlo Vineyards, near the town of Keremeos, and Crowsnest Vineyards near Cawston. The high-elevation Similkameen Valley has near desert-like conditions, with hot daytime temperatures and cooler nights, tempered by the river. Summers are dry and hot, with long sunshine hours and low humidity. The valley follows the picturesque Similkameen River and is surrounded by steep terrain. Two hundred acres along the river are planted to wine grapes.

Taking Focus on Appellation
By
Clark Smith
December 9, 2013
Appellation America has entered its second decade on the web. Much has changed since the start, but the core focus remains characterizing the unique flavor profiles of North America's appellations and the natural influences and human cultural forces which influence them.   [>] continue

Orofino Vineyards: Canada's first straw bale winery opens in the Similkameen Valley
By
John Schreiner
May 4, 2005
[>] see all Similkameen Valley features (1)

Embracing Virginia's Terroir
By
Richard Leahy
June 2, 2013

Shake Ridge Ranch - Gem of the Sierra
By
Roger King
May 16, 2013

Tannat, Vibrant Across the America's
By
Barbara Trigg
May 6, 2013

Welcome Middleburg Virginia AVA
By
Roger King
January 4, 2013

Humboldt County: Is Too Much Terroir Possible?
By
Clark Smith
October 14, 2012

Historic Buena Vista Winery Restored
By
Barbara Trigg
September 18, 2012