Orofino Vineyards: Canada's first straw bale winery opens in the Similkameen Valley
The Orofino wines should turn heads, but if they don't, the unique winery will.
by John Schreiner
May 4, 2005
---
Orofino Vineyards, which opened last Saturday near Cawston, B.C., should add some much needed profile to British Columbia's Similkameen appellation, if only because of the winery's original design.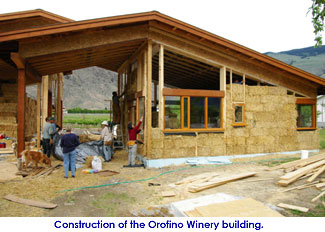 The winery and the adjoining tasting room (attached by a covered breezeway) have walls built with about 850 straw bales. The walls are covered with an attractive dusty pink stucco. Except for the thickness of the walls, it looks like any small, well-designed winery. Functionally, it likely is the most energy efficient winery in British Columbia. Owners John and Virginia Weber qualified for a big rebate from the local power company.
The building technique is not new; there are at least five other farm buildings around the Similkameen Valley made with similar materials. This is the first time the method has been used for a winery. It probably will not be the last time: Scherzinger Vineyards at Summerland (soon to rename itself as Dirty Laundry Vineyard) has plans for a straw bale winery as well.
Orofino's construction method is not the only thing about this winery that will excite comment. The inaugural wines are very well made indeed.
The Similkameen Valley, which lies just west of the south Okanagan, currently accounts for only 13 of the 371 vineyards in British Columbia. The area under vine, according to a 2004 census, is 84 hectares, or 3.8 per cent of British Columbia's total. Further growth is expected, with reported land purchases by one major producer, and with several small vineyards just being planted. Unfortunately, there is not very much land suitable for grapes and there is no lake to temper the spring and fall seasons.
Including Orofino (named for a nearby mountain), there are only four licensed wineries in the Similkameen and three are tiny. Herder Vineyard opened last year and is producing about 1,000 cases. Orofino opened with about 550 cases. St. Laszlo Vineyards, which opened in 1984, makes a vast array of grape and fruit wines but in small volumes. The largest is Crowsnest Vineyards, which opened in 1995, and now makes about 6,000 cases a year.
The largest vineyards in the valley are owned by wineries that operate elsewhere: Mt. Boucherie Estate Winery, located at Westbank, and Andrés Wines Ltd., with a winery in the Vancouver suburb of Port Moody.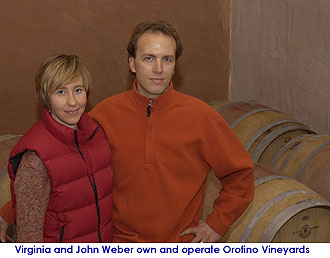 Orofino's owners exemplify the young people now coming into British Columbia's wine industry. Both were born in Swift Current, SK., in 1969. Virginia became a nurse and John Weber became a school teacher. Their interest in wine developed after a summer touring European wine regions in 1991. They finally acted on that interest in 2001, buying a 2.2-hectare vineyard that had been planted near Cawston in 1989.
Since then, they have thrown themselves into learning their new careers. Virginia still works as a nurse but also has a horticulture diploma and has taken wine courses at Okanagan University College. John has completed courses in viticulture, winemaking and marketing and was the first recipient of a wine industry bursary given to students judged to have outstanding potential.
After selling grapes for a few years, the Webers engaged consulting winemakers, beginning with the 2003 vintage, and developed their winery.
The mature vines in Orofino's vineyard are Pinot Noir, Merlot, Cabernet Franc, Chardonnay, Riesling and several Muscat varieties. There was some Pinot Blanc but Weber has grafted that to Cabernet Franc. A nearby neighbour is planting a small Cabernet Sauvignon vineyard and Weber will contract the fruit.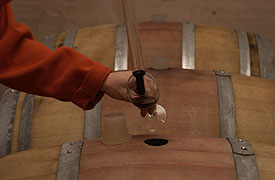 The emphasize on red varieties reflects the fact that the hot, dry Similkameen can produce big, ripe red wines. Orofino's debut 2003 Pinot Noir is a bold, concentrated wine made with grapes picked between 24.4 Brix and 25.2 Brix. The finished wine has 14.5% alcohol but, with its mouth-filling spiced cherry flavours, there is no perception of hotness.
Orofino's 2003 Merlot Cabernet, also with 14.5% alcohol, has ripe plummy flavours. The wine is a blend of 80% Merlot – the biggest block in the vineyard – with 18% Cabernet Franc and a dash of Cabernet Sauvignon, because the latter variety was interplanted in the vineyard through a previous owner's happy error. The winery also has released a 2003 Merlot, with 14.2% alcohol – a wine showing a fine perfume and spicy flavours of plum and jam.
With Chardonnay still in barrels – only four barrels, one of which is Canadian oak – Weber's debut white is a crisp 2004 Pinot Gris made with Okanagan grapes. Weber's initial plan was to make only Similkameen appellation wines. However, the Pinot Gris is so attractive that he likely will keep it in the portfolio.
Still in the tank is the vineyard-grown Riesling, made in a dry, Alsatian style. Weber believes he has good Riesling terroir and would like to squeeze more of the variety onto his site.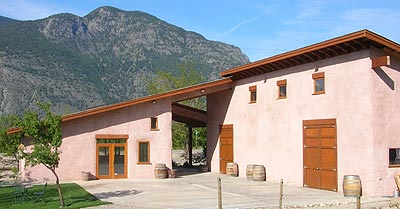 The late harvest 2004 Muscat, a mere 280 half bottles, has been bottled for release later this year. The wine's exceptional intensity comes from Weber's decision to air dry some of the grapes before pressing them.
The wines should turn heads, but if they don't, the unique winery will. To build the basic structure, Weber brought in an expert in straw bale buildings from Nelson, B.C. The bales, which must be clean, long-fibred and tight, were purchased from an Alberta farm that specializes in making construction bales. The winery erection bee was turned into a five-day workshop for others in the Similkameen interested in the technique.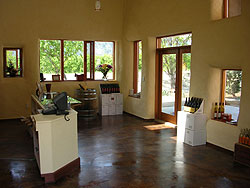 Visitors expecting to find a rustic winery are surprised to find a neatly engineered set of buildings with one of the smartest tasting rooms in the industry. The counter is an altar-length slab of glass on stainless steel supports. However, visitors during the Similkameen's blistering summer will especially enjoy the cool interior provided by the massive insulation of the tasting room walls.