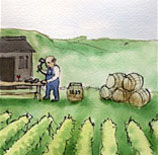 "Longevity" aptly sums up the Hudson River Region of New York. The historic region claims both the oldest continuously active winery in America, the Brotherhood Winery (est. 1839) as well as the oldest operating commercial vineyard in America (dating to 1827), now the site of the Benmarl Winery. Today, there are five hundred acres of vineyard flanking the Hudson River, which flows due south through eastern New York State. The region hosts close to 30 small wineries, most situated on the western bank, where an eastern exposure permits early morning sunshine to warm the vineyards. Although most vineyards are located closer to the banks of the Hudson, viable growing conditions do extend several miles to the east and west of the river. The Hudson's perfect north-south orientation moderates the otherwise harsh climate, channeling maritime breezes inland, cooling the hot, humid summers and keeping winters milder. Though the local industry was built on hybrid varieties like Seyval Blanc and Baco Noir, cold- tolerant vinifera, like Chardonnay and Cabernet Franc, are also finding a niche in some appropriately situated vineyard sites.

WAWGG Banquet Explores Washington State Terrior
By
Roger King
February 2, 2014
The multiple appellations of Washington will be tasted in a unique banquet dinner at this years Washington Association of Wine Grape Growers Annual Meeting and Trade Show. Nuances of that regional diversity have been paired with the meal being prepared by Chef Dan Carr.  [>] continue

Taking Focus on Appellation
By
Clark Smith
December 9, 2013

Whitehall Lane Winery, A 20 Year Story of Vineyards
By
Roger King
July 15, 2013

Embracing Virginia's Terroir
By
Richard Leahy
June 2, 2013

Shake Ridge Ranch - Gem of the Sierra
By
Roger King
May 16, 2013

Tannat, Vibrant Across the America's
By
Barbara Trigg
May 6, 2013

Welcome Middleburg Virginia AVA
By
Roger King
January 4, 2013

Humboldt County: Is Too Much Terroir Possible?
By
Clark Smith
October 14, 2012