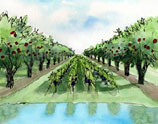 The Lake Erie North Shore region of southwestern Ontario was the earliest and most vibrant commercial wine growing area in Canada until the end of the 19th century. Today, as a Designated Viticultural Area (DVA), and with the number of wineries on the rise, Lake Erie North Shore is reestablishing its reputation as one of the country's best wine regions.
    Lake Erie is the shallowest of the Great Lakes and during the growing season its surface temperature is considerably warmer. This, combined with the region's southerly situation and a higher degree of sunshine hours and heat units, ensures a desirable level of ripeness for well structured and flavored wines. Harvest here can be weeks ahead of other Ontario regions. And good thing, as the shallowness of the lake also means it is the first to cool off in fall, bringing and abrupt end to the growing season. The lake's shallowness also leads to problems during very cold winters when the lake can freeze over, leaving growers concerned about vine hardiness.

WAWGG Banquet Explores Washington State Terrior
By
Roger King
February 2, 2014
The multiple appellations of Washington will be tasted in a unique banquet dinner at this years Washington Association of Wine Grape Growers Annual Meeting and Trade Show. Nuances of that regional diversity have been paired with the meal being prepared by Chef Dan Carr.  [>] continue
[>] see all Lake Erie North Shore features (1)

Taking Focus on Appellation
By
Clark Smith
December 9, 2013

Embracing Virginia's Terroir
By
Richard Leahy
June 2, 2013

Shake Ridge Ranch - Gem of the Sierra
By
Roger King
May 16, 2013

Tannat, Vibrant Across the America's
By
Barbara Trigg
May 6, 2013

Welcome Middleburg Virginia AVA
By
Roger King
January 4, 2013

Humboldt County: Is Too Much Terroir Possible?
By
Clark Smith
October 14, 2012