---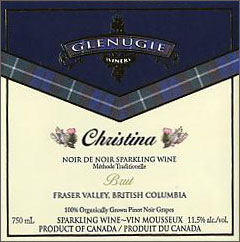 Glenugie Winery
NV Christina, Estate
(Fraser Valley)
This is said to be the first sparkling wine released from a vineyard in the Fraser Valley. The name commemorates Christina Tayler (sic), the late wife of winery principal Gary Tayler. The couple, along with their family, opened this winery in 2002 after planting five acres in 1997 exclusively to Pinot Noir. "It started with the idea of a few Pinot Noir to make my own red wine again," says Gary, who once owned an Okanagan vineyard. The project mushroomed to a vineyard with 8,700 vines.

In several vintages, Tayler boosted the maturity of the fruit by enclosing the vines for a few weeks each spring with plastic tenting, sometimes blending with wines made with Okanagan-grown fruit. In the 2005 vintage, he decided instead to make sparkling with the organically-grown estate grapes.

The result is a wine as dark as most Pinot Noir table wines. The appearance is festive. It tumbles into a Champagne flute with ruby cascade forming a frothy head of bubbles, which have medium persistence. The wine is intensely fruity, with aromas of strawberries and flavours of spice, strawberry and chocolate. With a hint of tannin, the texture is rich and mouth-filling, and the finish is dry. Easy-drinking on its own, this wine also pairs with grilled salmon.

Reviewed September 8, 2006 by John Schreiner.
---
Winery: Glenugie Winery
Vineyard: Estate
Vintage: NV
Wine: Christina
Appellation: Fraser Valley
Grape: Pinot Noir
Price: 750ml $21.90



John Schreiner

John Schreiner has been covering the wines of British Columbia for the past 30 years and has written 10 books on the wines of Canada and BC. He has judged at major competitions and is currently a panel member for the Lieutenant Governor's Awards of Excellence in Wine. Both as a judge and as a wine critic, he approaches each wine not to find fault, but to find excellence. That he now finds the latter more often than the former testifies to the dramatic improvement shown by BC winemaking in the past decade.