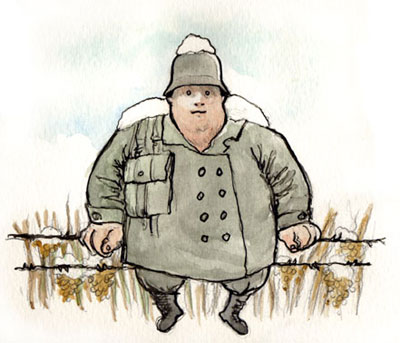 Ortega
"I see nothing. I hear nothing. I know nothing." Ortega, your sweet nature is laudable, but you are easily taken advantage of by sharper minds. How many times will you sit obligingly in the freezing Canadian winter, only to see others, like Riesling, get the Icewine credit? Simple as you may be, everyone enjoys your peachy attitude. Your sweet temperament is adored, and your willingness to work overrides your low aptitude.

Appellations Growing Ortega Grapes
Appellations producing the most Ortega wines:
| | |
| --- | --- |
| | |
| | |
| | Prince Edward Island (Provincial Appellation) |
Ortega

Ortega's winter-hardy character has allowed this grape to be successfully grown in British Columbia, and with limited success in Canada's eastern province of Nova Scotia. This German cross of Muller Thurgau and Siegerrebe is primarily used to enhance Riesling in poor vintages in the Rheinhessen region of Germany. On its own, it can produce rich, flowery, peachy wines, with high natural sugar levels. However, its generally low acidity and its susceptibility to fungal diseases and coulure have limited its use.