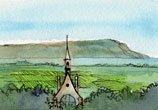 Nova Scotia's wine industry rarely gets the attention it deserves. Though the climate is cool, several distinct grape-growing regions exist, with the Annapolis Valley as the historic home of viticulture.

The valley has the warmest summer temperatures and benefits from low precipitation levels. It's here that Roger Dial, one-time managing partner of California's Davis Bynum Winery, pioneered the Nova Scotia wine industry in the late 1970s with his Grand Pré Winery. After trials with upwards of a 100 varieties from around the world, Grand Pré championed the ecologically suited varietals, L'Acadie Blanc and New York Muscat, as well as the Vitis amurensis varieties Michurinetz and Saperavi Severnyi. The original winery, now known as Domaine de Grand Pré, is owned by Swiss interests.

The province's Northumberland Shore offers an entirely different sort of microclime which has been the viticultural focal point of the Jost family since the late 1970s. The Josts opened their winery in 1983 and are now the province's largest winery, with an exciting program of encouraging contract growers to explore unique microclimates across the province.

Two other Annapolis Valley wineries, Sainte Famille and Blomidon Ridge, both of which began as Grand Pré contract growers in the early 1980s, have joined the originals, and other vineyards-turning-wineries will soon be opening on the province's South Shore and Gaspereau Valley. A strong fruit wine industry also exists in the province. Four wineries produce a range of products from fruit sourced in the region.

Bi-State Upper Hiwassee Highlands an AVA
By
Roger King
August 6, 2014
In the southern Blue Ridge Mountains of North Carolina and Georgia vineyards are small and few, yet the establishment of the Upper Hiwassee Highlands could bring much more.  [>] continue

A Bridge Not Too Far
By
Craig Pinhey
April 11, 2008

A Sparkling Future for L'Acadie Vineyards
By
Craig Pinhey
December 1, 2006
Sean Wood's "Wineries & Wine Country of Nova Scotia" just released
By
Mark DeWolf
November 5, 2006

Bear River: Appellation in the making
By
Roger Dial
August 15, 2005

Defining L'Acadie:
By
Mark DeWolf
July 9, 2005

Gaspereau Vineyards Opens its Doors
By
Adam Dial
August 23, 2004
[>] see all Nova Scotia features (9)

Remote Manton Valley New California AVA
By
Roger King
July 31, 2014

WAWGG Banquet Explores Washington State Terrior
By
Roger King
February 2, 2014