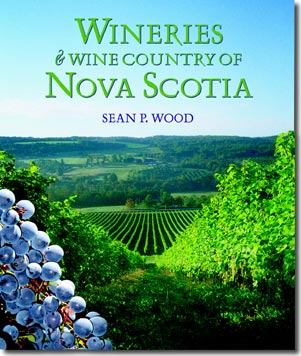 Nova Scotia (Provincial Appellation)
Sean Wood's "Wineries & Wine Country of Nova Scotia" just released
A tribute to North America's "oldest" new wine region.
by Mark DeWolf
November 5, 2006
---
<!>The chronicles of progress in Nova Scotia winegrowing took a major step forward with the recent publication of
Wineries & Wine Country of Nova Scotia
.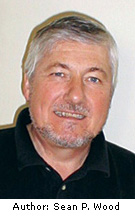 This compact 108 page coffee table style book, filled with breathtaking photography, was penned by Sean Wood, wine columnist for Halifax's
Chronicle Herald
and a regular contributor to
Tidings
,
Wine Access
and the London-based
Wine & Spirit International
.<!> And, for sure, Sean Wood is no stranger to his subject matter. He was on hand as a rain-soaked picker for Nova Scotia's first commercial vintage in 1979 and his engagement with the fledgling industry hasn't skipped a beat in the ensuing decades.
With this work, Sean Wood has provided a fitting tribute to North America's "oldest" new wine region. Wood reveals that "
Nova Scotia
is arguably the oldest wine-producing region in North America," with the first vines being planted in the LaHave River Valley in the 1630s. However, historical curiosities aside, it is Wood's passion for the future of the Nova Scotia wine industry – notably the newly drafted Nova Scotia Wine Stardards – that sets the tone of this book.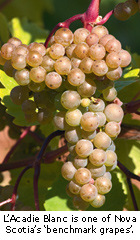 The author sets the stage with a succinct description of Nova Scotia's various growing regions, revealing an amazingly diverse agricultural tapestry. He then devotes significant space in the book to what he calls Nova Scotia's "benchmark grapes." Wood rightly assumes that most readers will have no prior knowledge of such obscure varieties as
L'Acadie Blanc
,
Lucy Kuhlmann
or
New York Muscat
to mention only a few of the cast of varietal characters that play their part in the viticultural drama unfolding in Nova Scotia. These are the terroir rational varieties that have already demonstrated their nobility and will define the wine industry as it expands over the years to come.
Wood also profiles Nova Scotia's eight wineries (plus Rossignol, which is located across the Northumberland Strait on Prince Edward Island), including the province's largest and oldest continually operating winery,
Jost Vineyards
, as well as the region's newest and smallest winery,
Bear River Vineyards
.
For more information about
Wineries & Wine Country of Nova Scotia
contact Nimbus Publishing by phone at 902-454-7404, or by email at
customerservice@nimbus.ns.ca
.
~ Mark DeWolf, Regional Correspondent – Nova Scotia
To comment on Mark DeWolf's writings and thoughts, contact him at
m.dewolf@appellationamerica.com