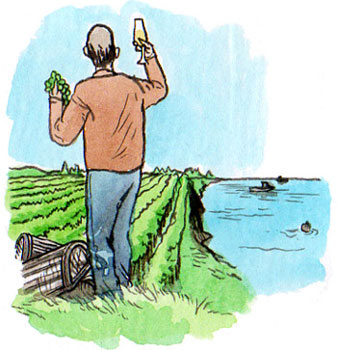 Nova Scotia (Provincial Appellation)
A Sparkling Future for L'Acadie Vineyards
"L'Acadie is a versatile grape and has proven itself in various styles -- tropical, fruit-forward, and barrel aged, sur lie, complex wine...I have made sparkling from Riesling for many years in BC and I see a similar flavour development in L'Acadie."

~ Bruce Ewart, L'Acadie Vineyards
by Craig Pinhey
December 1, 2006
---
L'Acadie Vineyards' winemaker and grape-grower Bruce Ewert has an open mind. At least he must, based on his current situation. While many award-winning, internationally experienced wine professionals might consider a move to the
Nova Scotia
industry at the peak of their careers to be a bit odd, or even distasteful, Ewert has embraced the change with open arms.<!>
Still, the region is not yet firmly placed on the international wine map.
There are reasons, of course. For one, Ewert's wife Pauline Scott is from Nova Scotia, so their move from the much hotter (in terms of climate as well as the wine industry)
Okanagan Valley
to the Gaspereau Valley starts to make sense.
More importantly, Bruce is a proponent of terroir -- the notion that the land defines the wine -- and he knew that this cool climate wine region could produce some impressive terroir-driven wines.
Growing grapes here is challenging though.
You can hear the excitement of this challenge in his voice, as Bruce discusses their company,
L'Acadie Vineyards
. This organically farmed 7-acre vineyard will produce grapes for the estate winery, which is scheduled to open by 2008 and will produce a range of wines mainly from the L'Acadie (Blanc) grape. The vineyard is situated on the south side of the Gaspereau Valley, a swath cutting east to west for a few dozen miles, just south of the town of Wolfville, in Nova Scotia's Annapolis Valley.
This region is cool, yes, but is also well known for fruit production. Winemaking grapes have been grown here for commercial production since the mid 1970s.
"Cool climate viticulture requires large bodies of water that do not freeze to winter temperatures," says Bruce, "In this area, we're influenced by the large Atlantic Ocean, rather than by lakes. This translates to cooler springs with later bud-break, which is beneficial to avoid bud damage by spring frosts. We also enjoy warm falls for extended ripening. We are growing grape varieties that suit the climate. There are no significant pests, which makes growing organically more manageable and a better expression of true terroir."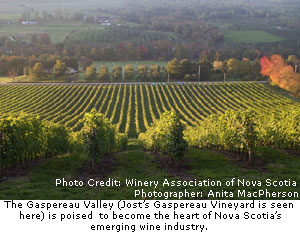 These are not the words of a grape 'newbie', trying his hand in an unknown land. Ewert understands cool climate oenology, and knew what he was getting into here.
"My wine education started with a seemingly unrelated Engineering degree from UBC in 1986," explains Bruce. "My Bio-Resource Engineering degree was agricultural-based with an emphasis on food science. After graduation, I heard that there was an entrance level position in winemaking at Andres Wines that had been created because Walter
Gehringer
was leaving to start his own winery in the Okanagan Valley. I was taught by the prominent winemakers at Andres over my 7 year tenure in
British Columbia
,
Ontario
and Nova Scotia, including courses which I took at UC Davis."
Bruce has some other New World experience, having worked vintages in
Sonoma
, California and Padthaway and Hunter Valley, Australia (as he says, "a must experience for any winemaker, excuse the pun"). After that, he returned to the Okanagan Valley to be winemaker at
Hawthorne Mountain
for five vintages and at
Summerhill Pyramid Winery
, Canada's largest organic vineyard, for 2 vintages.
Bruce knows that L'Acadie already makes great table wine, but he saw something else in this often tart green grape, practically unplanted outside the Maritimes. He plans to specialize in traditional method, bottle-conditioned sparkling wine made from L'Acadie.
That's right -- Sommeliers across the region will soon be able to proudly serve our own naturally conditioned bubbly.
"L'Acadie is a versatile grape and has proven itself in various styles -- tropical, fruit-forward, and barrel aged, sur lie, complex wine." explains Ewert. "I have made sparkling from Riesling for many years in BC and I see a similar flavour development in L'Acadie. flavours which develop early in the ripening process and a retention of natural acidity."
It would be folly to question Ewert's sparkling credentials. For multiple consecutive years, he was awarded Best Bottle Fermented Sparkling Wine at the Okanagan Wine Festival, for wines made at
Hawthorne Mountain
and Summerhill.
Although well known for sparklers, Bruce has won many awards for still wines, and has other plans for L'Acadie Vineyards. "Our plans are to craft organic wines from our certified organic vineyard and explore the versatility of the
L'Acadie
grape. Our L'Acadie portfolio will include a bottle fermented sparkling wine made using traditional Champagne methods, and several still wines: one fruit-forward with skin contact/stainless steel fermented, one with lees contact in old oak barrels (sur lie), and a dessert wine made from semi dried grapes."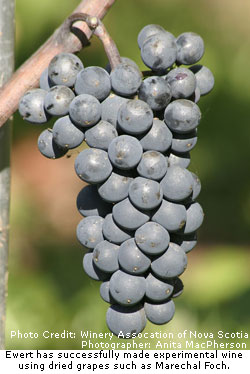 "We plan on having a red wine as well," explains Bruce, "probably blended. Crafting premium red wine by blending different red grape varieties employs the essential art of winemaking and I have done it for years in BC (actually decades when I count) with wines such as Meritage. That adds up to 5 products. We might have other bottle fermented sparkling wines and I have not yet decided on what style."
On my first visit to the young vineyards in the fall of 2006, I tried Bruce's experiments with drying L'Acadie and
Marechal Foch
. The resulting wines had loads of character, including full body and complex flavours and aromas, showing raisiny notes and grape tannins. The white was particularly remarkable and interesting, as it is rare to find Nova Scotia white wines with that much body and complexity.
"Grape drying is an old traditional concept used in European countries to achieve higher concentrations of flavours and sugars," says Bruce. This technique has its drawbacks though, mainly in the labour, time and the resulting higher price that must be charged for the wines.
Whether traditional method bubbly, dry crisp table wines, or full, complex premium versions from semi-dried grapes, the future for L'Acadie Vineyards appears to be sparkling.
Craig Pinhey is a Sommel