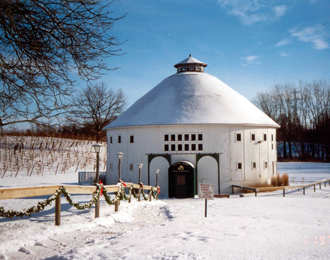 Round Barn Winery's
World is Not Flat
Ask anyone who does not live in the state to describe the geography of Michigan and we bet they'll say, "flat." Not true. The rolling hills of southwest Michigan countryside are ideal vineyard locations and home to 17 wineries in the Lake Michigan Shore AVA.
by Eleanor & Ray Heald
December 22, 2008
---

ound Barn Winery
at Heart of the Vineyard in Baroda, Michigan not only takes advantage of its rolling hills location, but has established one of the most recognizable icons of the region – a round barn. These cylindrical buildings date back to the time of President George Washington and were features of some Shaker colonies. Perfectly round barns were not uncommon at one time but they are rapidly disappearing from the American landscape.
Fortunately, Rick Moersch, owner of Heart of the Vineyard has a fondness for preserving historic buildings. Several years ago, he stumbled upon a round barn built in 1911 and owned by Lori and Max Huffman of Rochester, Ind., (about 90 miles south of the present Heart of the Vineyard). Weather-damaged over the years, the barn was near collapse. Moersch located an Amish construction crew and a banker. With available capital in 1997, the crew moved and reconstructed the round barn on Heart of the Vineyard property and created one of the great logos of the wine industry anywhere in America.
More Than A Logo
Moersch, a veteran of the Michigan wine industry, began his winemaking career in 1979 at Tabor Hill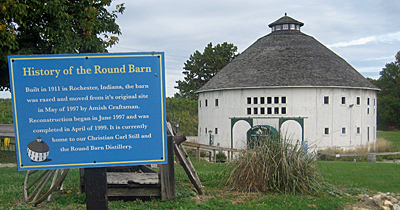 Winery (also in the Lake Michigan Shore AVA) as a lab tech. He then became winemaker from 1982 to 1992, the year he founded
Round Barn Winery
. "Because every winemaker has that dream," 58-year-old Moersch says. "I told the owners of Tabor Hill that I wanted to start my own winery and actually founded a small operation in 1985-86 with my wife Sherrie." Tabor Hill's owners were unhappy with this and Moersch closed his small winery, but retained the vineyard which he planted in 1982 (on sandy-loam soil with a number of clay lenses running through it).
With this parcel, Moersch worked with a nursery, grafting
vinifera
onto a number of rootstocks including 3309, 5BB and SO4 and then sold them broadly across the U.S. With stock, he also planted the nine-acre Heart of the Vineyard. As years went on, other parcels elsewhere in the AVA were planted and today farming operations total about 50 acres. The first Heart of the Vineyard wines were produced from the 1993 vintage, prior to moving the Round Barn and renaming the winery.
Why Southwest Michigan?
Moersch believes that other than citrus, most any fruit can be grown in southwest Michigan. Later-ripening grape varieties, like Cabernet Sauvignon, are never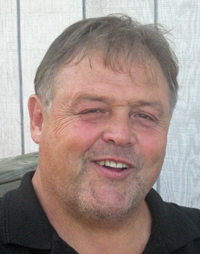 going to be a mainstay, but Merlot is easy to grow. Petit Verdot and Norton are others on Moersch's "no" list. "We crop at the same levels as the Champagne region of France," Moersch notes, "so Chardonnay, Pinot Noir and Pinot Meunier grow well here.
"Because the AVA is undercapitalized, no one has taken on the challenge of growing these three varieties specifically for sparkling wine. Reaching 18 to 19 degrees Brix is easy here. Years ago, I had some great discussions with the late Andre Tchelistcheff when I encouraged him to come to Michigan. In a blind tasting, which included Tabor Hill's Grand Mark sparkling wine, Tchelistcheff eliminated California sparklers and champagnes from his top picks."
In
Lake Michigan Shore
AVA, Round Barn grows or sources Chardonnay, Pinot Gris, Scheurebe, Muller Thurgau, Riesling, Gewurztraminer, Pinot Noir, Pinot Meunier, Cabernet Sauvignon, Cabernet Franc and Merlot. Among hybrids are Vidal Blanc, Vignoles, Traminette, DeChaunac and Chambourcin. Pinot Gris, made in a French style with somewhat higher alcohol and lower acidity, is the largest volume production white variety. A blend of all the red hybrids is the largest volume red. "Depending on how things pick out," Moersch adds, "the blend may have some red
vinifera
."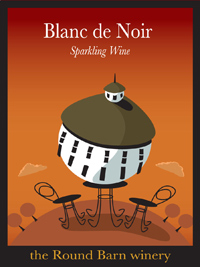 Among the whites, the easiest varieties to grow are Pinot Gris and Chardonnay. Cabernet Franc and Merlot are the easiest reds. Riesling, although it's the most-widely planted wine variety in the state of Michigan, can be problematic, Moersch says. "Because of the humidity, Riesling is more susceptible to disease here. Growing hybrids is a no-brainer."
Instead of producing single varietal wines for some
vinifera
, Round Barn blends Chardonnay, Scheurebe, Muller Thurgau, Pinot Gris and Riesling in an Alsace-style wine called Vineyard Tears (nobody is crying, tears is a long-held expression for legs in describing a wine's viscosity). Future plantings on a newly-cleared 12-acre parcel will be Chardonnay, Cabernet Franc and Merlot. Given the uber-abundance of Chardonnay in the world of wine, Moersch believes there's room for more. "It makes a lot of sense to grow Chardonnay here," he affirms. "We can get it ripe with sufficient acid, but we grow it on a Scott Henry trellis system at 4.5 feet x 8 feet 8 inches. For sparkling wine, we early-pick the bottom wire and then let the upper tier coast into the 22 to 23 degrees Brix range over a two to three-week window which develops every year. We crop at 3 to 3.5 tons per acre."
With an annual case production between 8,000 and 9,000 cases, the winery is not maxed out and can easily handle grapes that will come from newer planting.
Challenges And Advantages
The presence of the round barn has escalated Round Barn, the winery, to a destination location for wine aficionados, 60 percent of whom come from the greater Chicago area, 30 percent from neighboring Indiana, with only 10 percent from Michigan. Moersch has not noticed a regional wine preference among winery visitors from the three states. "
Vinifera
drinkers have that grape category preference and I believe that's nationwide. Consumers prefer hybrid blends to single varietal bottlings of these grapes."
The southern sectors of the Lake Michigan Shore AVA are cold weather grape growing areas. Although this does present problems in some vintages, overall the fruit expresses itself well. The region has an extra three weeks to a month growing season over both the Leelanau Peninsula AVA and Old Mission Peninsula AVA in northwest Michigan.
"For whatever reason," Moersch concludes, "even-numbered years are not as good as the odd-numbered. And this is not a recent phenomenon. It dates back decades."
Round Barn Winery Tasting Notes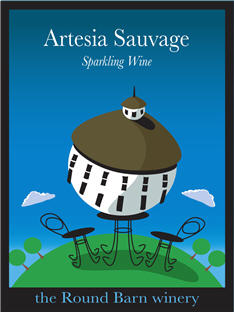 Artesia Sauvage Non-vintage
, $20, is a crisp, no-dosage sparkler blend of 50 percent Chardonnay, 20 percent Pinot Noir and 30 percent Pinot Meunier. White and tropical fruits with toasty overtones are dominant aromas while bright appley flavors play long into the finish of a wine that spent more tha