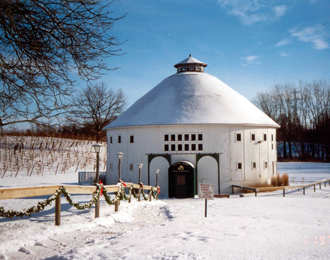 Round Barn Winery's
World is Not Flat
Ask anyone who does not live in the state to describe the geography of Michigan and we bet they'll say, "flat." Not true. The rolling hills of southwest Michigan countryside are ideal vineyard locations and home to 17 wineries in the Lake Michigan Shore AVA.
by Eleanor & Ray Heald
December 22, 2008
---

ound Barn Winery
at Heart of the Vineyard in Baroda, Michigan not only takes advantage of its rolling hills location, but has established one of the most recognizable icons of the region – a round barn. These cylindrical buildings date back to the time of President George Washington and were features of some Shaker colonies. Perfectly round barns were not uncommon at one time but they are rapidly disappearing from the American landscape.