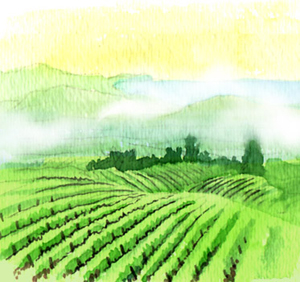 Carneros AVA -- The Sweet Spot
for Pinot Noir and Chardonnay
by Alan Goldfarb
September 28, 2007
---
It
was in the early spring of 1992 or was it '93? I'm not certain, but it was shortly before André Tchelistcheff, who I call the patriarch of California wine, died. On this day though, I walked
Beaulieu
's Carneros Pinot Noir vineyard with the patriarch. The wind was hollowing off of nearby San Pablo Bay, as it is wont to do there. It was blowing so hard that when André happened upon a vine that was a few weeks into budbreak, he discovered that one of the young, thin shoots had been almost torn away by the wind.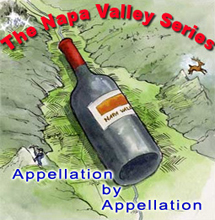 He clutched the small, single-leaf tendril in his tiny hand and I swear I could see tears welling in his eyes. Tchelistcheff felt a deep sense of love for that vineyard in the
Carneros
in the southern-most region of the
Napa Valley
. He was one of the first to believe that
Pinot Noir
would do well there; and he was right.
He was a tiny man – perhaps 5-foot-1 or 2 – but he was a giant. That's too easy an image to conjure up for the White Russian, who escaped World War I and went on to resurrect a Prohibition-depleted California wine industry. Besides his importance to American wine in general, Tchelistcheff looms especially large to the folks down in the Carneros.
He was right about Carneros Pinot, and in the '80s, the few winemakers there at the time – Francis Mahoney at Carneros Creek, Mike Richmond at Acacia, and David Graves and Dick Ward at Saintsbury; and growers such as Ira Lee and Lee Hudson – proved it.
It took a while longer before they started figuring out that Pinot can do well in other regions such as the
Anderson Valley
,
Russian River Valley
,
Sta. Rita Hills
and
Santa Lucia Highlands
.
But that was the trouble. The folks down in the Santas figured out that new wine drinkers – the sons and daughters of those that were weaned on Carneros Pinots - favored bigger, heavier, fruitier, higher alcoholic Pinots. Anderson Valley and the Russian River too, realized that their wines reflected the place from where the grapes were grown.
It all added up to leaving Carneros in the dust. But that's what happens when you're the first, when you're the pioneer. You take things for granted. You make mistakes. You rely on hubris; and in the end, you're the ones being taken for granted and all but overlooked and/or forgotten.
I've written those words in one form or another many times over the last few years. But I believe now that the wines from the
Carneros
or Los Carneros American Viticultural Area (AVA) are getting better; and that it would be a shame to overlook them.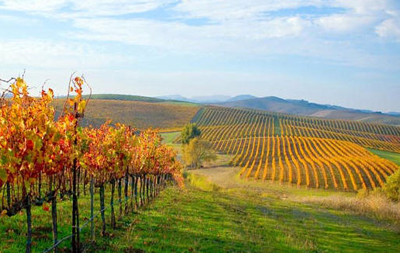 In addition to Pinot and
Chardonnay
– the two varieties for which Carneros first made its bones –
Merlot
is now getting a foothold. And let's not forget
Syrah
, which is also showing real promise.
It's all due to the fierce competition, new winemaker and grower attitudes, and new rootstocks and clones that - decades after André Tchelistcheff first graced Carneros' vineyards – the region is resurrecting itself.
Lee Hudson
, who since 1981 has been farming a 160-acre vineyard west of the Winery Lake Vineyard and across the Carneros Highway from
Domaine Carneros
, was one of the first to throw his lot in with the Carneros area. "We benefited by being part of the first iteration (of cool climate regions). But when you're the new kid on the block (i.e. Santa Rita Hills, Santa Lucia Highlands), others look at the other appellations." he said. "But it's remarkable what's happening here.
"We were all planted when the Russian River (for instance) didn't have any Pinot Noir, relatively speaking. Those sites were just being discovered. By the middle of the '90s, we were starting to rip out our vineyards (due to phylloxera).
"I think you're going to see the quality here has improved remarkably – not just in Pinot Noir – but the Chardonnay is as good as it is in the U.S. (And) we produce remarkable Merlot. …The climate of Carneros, with our clay-driven soils, is very well suited to Merlot."
A Two-County Appellation – From Sonoma to Napa
The 90 square miles of the Carneros, which straddles the southern tip of both Sonoma and Napa counties, has more than 30 wineries and 40 growers. It was the first wine region in California based on climate rather than political boundaries. It received its AVA designation in 1983.
The elevation of its vineyards ranges from sea level in the south to 400 feet in the Mayacamas foothills. It is the coolest region in terms of temperature in both counties; and it is by far the windiest. These afternoon gusts slow activity in leaves and dry the dew left by morning fog, inhibiting mildew and mold.
Carneros' soils tend to be dense and shallow, approximately three feet deep. As mentioned, it's high in clay, with low to moderate fertility. While it's perfect for Merlot, which also does better in cool climate regions, it is the Pinot Noirs that made Carneros – and it will be Pinot Noirs that will once again rejuvenate the area.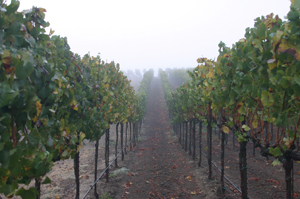 "With Pinot Noir, we're looking at a completely different attitude (about) how to grow it and make it," said Lee Hudson. "From a vineyard perspective, we're taking another look at site selection, management style, genetic stock, spacing, and a willingness to drop crop. We can sell our grapes for more money today, so you can afford to limit the crop and I think we're doing that.
"From a winemaking perspective, we're taking another look at harvest dates. We're picking now at true levels of California maturity. "We've taken a big step up, just like the Russian River has."
Michael Richmond
, who began his career in the late '70s at Acacia in the Carneros, and now is the president and winemaker at
Bouchaine Vineyards
just down