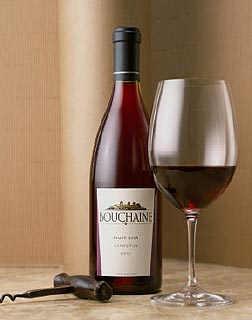 The Carneros Paradox
Bouchaine's unlikely duo starting from scratch
by Alan Goldfarb
September 13, 2005
---
They're as an unlikely a pair as you can imagine. Showing his age, he hobbles now on a damaged right hip, and suffers with a pinched nerve in his left shoulder. She's as rambunctious as a colt in a meadow, and her enthusiasm bubbles and roils in a rapid-fire staccato patois that shows residuals from the wilds of New Jersey.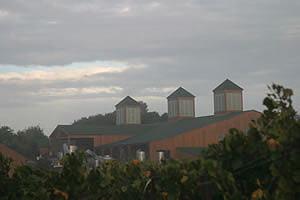 But together -- this still-vital wineman, who is traversing the threshold of codger-status, and his sidekick who is in the full-bloom of her vineland adventure -- are remaking a winery that has fallen off a path once well-traveled.
As Michael Richmond nears his seventh decade, he has returned for one more stab at promulgating a small, independently run winery in the Carneros. With
Bouchaine Vineyards
, the 59-year-old Richmond not only finds himself trying to jumpstart a property that for seemingly a few moments, had reveled in stardom; but he continues to foster the virtues of Los Carneros – a region for which he was an early proponent.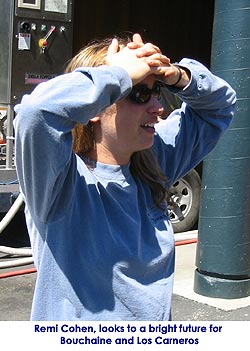 At his side now, Remi Cohen, a 28-year-old from East Brunswick, N.J. via Cal Berkeley, oversees Bouchaine's 92 acres of vineyard that she intimates with great gusto, contain the stuff that can not only resurrect the winery, but remake it.
According to Richmond, who broke his hip while riding his bicycle (he's still an enthusiast) on Father's Day, what he and Cohen are attempting at Bouchaine is not a revival, but a whole new winery.
With renewed capital from its owners -- Gerret and Tatiana Copeland, who are part of the DuPont family, and who still reside in Delaware despite owning Bouchaine outright since 1993 -- the Cohen-Richmond duo believes they're in league to earn respect once again not only for their winery, but for Carneros.
"We want to enrich the operation," says Richmond as we bounce up and down in the cab of his truck. "The Copelands detected an ennui or a stagnation and they started being proactive to vitalize the operation."
Further, he admits, "Bouchaine was wallowing in the trough and wasn't able to pull out."
He also acknowledges that the Copelands "probably weren't well-versed in winery operations and they realized there needs to be somebody holding the reigns… They didn't realize the competition was gaining on them, so they hired me as an emissary. The Copelands had the courage and they weren't victims of their own pride."
Not only does Richmond -- who in the late '70s was instrumental in bringing the Carneros much recognition when he co-founded Acacia Winery -- run the operation, but he finds himself actually making the wines.
When Acacia was bought by Chalone, Richmond was shunted off to Sonoma (although he might have been considered in some circles as Mr. Carneros), where he oversaw its Carmenet entity, and from where he created the Dynamite brand. In '02, the Copelands brought him back to the Carneros to oversee Bouchaine.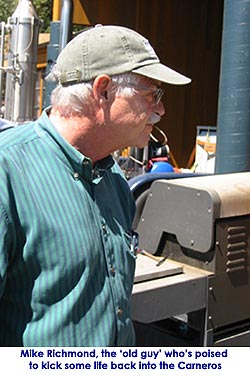 Why come back?
The answer is simple: Its duty for which he claims he's well prepared.
"I got kicked out of Chalone and it got corporate," he begins, warming to the query. "They realized I wasn't a corporate-type guy. I guess I spoke my mind too much."
Speaking his considerable mind -- as well as using it -- is something in which Richmond appears to revel. The limp due to the damaged hip and the pain from his right wing only act as a ruse to lull those unfamiliar with him, into thinking his powers have been diminished.
'Tis not the case.
As evidence, and although he admits that "the wine industry is moved by the young turks" and that "someone told Remi I'm one of
the old guys who's stuck in history,
" he says he's right where he ought to be.
"It seems like I have a knack for creating a culture in a winery and in an image," he explains. "Everything I've trained for in my whole life is here."
Indeed Remi Cohen, who interviewed Richmond when he was hoping to get the job, bristles when asked about the "stuck in history" remark.
"…It's almost the opposite," she responds. "It (the comment) enraged me because Mike listens to new ideas all the time."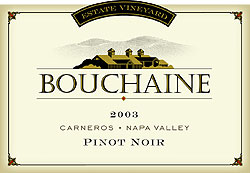 In his almost singular quest to prove that Bouchaine's, as well as the Pinot Noirs from the Carneros can at once be elegant and powerful she says, "he's open to different types (of wine) and different styles."
Richmond likes to borrow a Yiddish word to describe the type of Pinots he says the Carneros and Bouchaine are capable of producing. He calls them "zaftig," which in this context means big and dense.
He whole-heartedly disagrees with Jim Laube of the Wine Spectator, whom he considers a friend, who once wrote some biting remarks about the Carneros.
Writing in June of '01, Laube told his readers to look at "the Russian River and Sonoma Coast for the future," and "Wineries that pick Carneros instead of the Russian River, bet on the wrong horse. Big advantage: Sonoma. … When it comes to sheer value and getting the most for your money, well then, chalk one up for Sonoma."
As you can imagine, that still sticks in Richmond's gullet.
"Laube's comments have reverberated," he admits. "(But) if there's an intellectual honesty at all, people's opinion about Carneros will have to change."
He beseeches Laube too, to try Carneros again.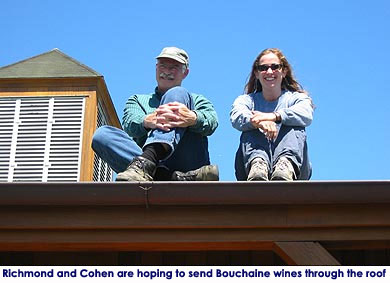 He admits that much of the techniques utilized in the region "were old" and that clonal material "was old." He also says that it's going to take another three to five years before Bouchaine and the Carneros get their groove back.
He concludes regarding Laube, "He was right for the time, but maybe that horse has sired a new colt."
Perhaps that "new colt" is Remi Cohen working alongside "the old guy," who are trying to get a broken-down nag up and running once more.
When she says things such as "the vines weren't given love," when referring to the 60 acres of contiguous vineyard Bouchaine purchased in '00, you get the feeling that she and her sidekick are in for a good ride.
He calls the pair "a little paradox."
Call it the Carneros Paradox.