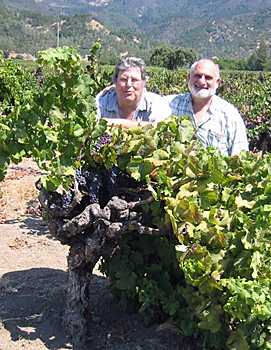 Nothing New About the Success of These Old Napa Vineyards
Jim Frediani and Clarence Luvisi are two Calistoga grape growers who command some of the highest prices for their fruit, which is sourced from vines that date as far back as 100 years. How do they do it? As Alan Goldfarb found out, it's the good old-fashioned way.
by Alan Goldfarb
October 22, 2007
---

nlike
most of today's vineyard managers who use the latest sophisticated techniques to monitor what's going on, first cousins Clarence Luvisi and Jim Frediani seem to operate viscerally and through empirical knowledge; but they are no less informed.